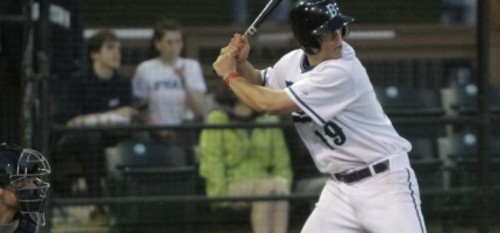 07/03/2011 12:25 AM
The Bells won their third straight one-run ballgame Saturday night, beating the Klamath Falls Gems 1-0 on a Jerry McClanahan two-out, RBI single in the seventh inning.
It was another pitcher's duel at Joe Martin Field with Steven Schoonover and Bellingham's Andrew Pulido stifling the bats of the opposition. Pulido pitched six scoreless innings, yielding only four hits and striking out four. Schoonover was excellent for the Gems, giving up one earned run in seven innings.
Both teams threatened early, with Klamath threatening to take a lead in the first inning. The Gems got a leadoff double from Rich Sanguinetti, who was thrown out trying to advance to third on a groundout. Two batters later, Nick Miller hit the Gems second double of the inning, placing runners on second and third with two out. Pulido retired Tom D'Aboy however, ending the inning.
Bellingham led off the fourth inning with back-to-back singles from Kai Hatch and Ben Grubb, who then moved to third and second, respectively, on a Pat Gallagher sacrifice bunt. Michael Aquino then flew out to center field, far enough for Hatch to attempt to score. However, Sanguinetti threw him out at the plate.
The Bells finally broke through in the seventh after Aquino led the inning off with a single. He eventually got to third and with two outs, Jerry McClanahan lined a 2-1 pitch into left field, scoring Aquino and putting Bellingham ahead 1-0.
The Bells got another stellar performance from their bullpen, which didn't allow a hit in three innings. Evan Hudson got the win after pitching a scoreless seventh, Nick Palewicz followed by retiring the side in the eighth, and Ryan Deeter did the same in the ninth, getting the save and finishing off the victory.
The win completes the Bells series sweep of the Gems and is their fourth league victory in a row. Bellingham is now