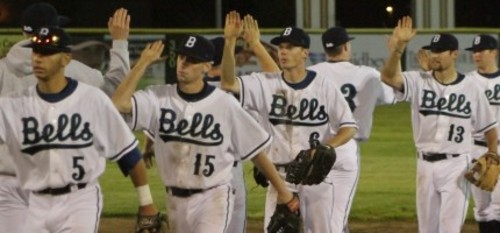 07/01/2011 12:54 PM
Eric Lane's line-drive single in the 13th inning scored Marshall Yanzick and provided the Bells with a 5-4 win over the Klamath Falls Gems on a wild night at Joe Martin Field.
It was a back-and-forth ballgame throughout, with the Bells taking a 1-0 lead in the second inning on a Dillon Moyer "safety squeeze" bunt that scored Ben Grubb from third.
Klamath fought back though with a run of their own in the fourth. Kainoa Crowell reached on an error and advanced to second on a wild pitch. With two outs, Crowell attempted to steal third base and scored after the catcher's throw went into the outfield.
Bellingham reclaimed the lead in the bottom frame of the inning, however. Grubb hit a one-out triple and after Danny Poplawski was hit by a pitch, Moyer stroked an RBI single up the middle, scoring Grubb.
Starting pitcher Richie Ochoa left the game after five stellar innings, allowing only one hit and the unearned run while striking out six. Usually a relief pitcher, it was Ochoa's first start of the season.
The Klamath Falls offense exploded in the sixth inning, however. With one out and a runner on first, the Gems got three hits in a row, scoring two runs. A Bellingham error led to another run and put the Bells behind 4-2.
Bellingham came storming back in the seventh inning, starting with a Danny Poplawski leadoff single, his second hit of the game. Poplawski stole second, advanced to third on a balk, and scored on an error committed by the Klamath Falls third baseman. Eric Lane would eventually deliver the first of his clutch two base hits and score J.R. Bunda to tie the game at four.
The game then turned into a pitching battle, with both teams getting stellar relief pitching.
Four Bells pitchers had scoreless outings, including Chris Howard, who got the win. Nathan Bunch was equally effective for the Gems, throwing five and a third scoreless innings to extend the game to the 13th inning.
However, Bellingham finally got to Bunch in the 13th. Marshall Yanzick led things off with a single and advanced to second on a wild pitch. Zane Yanzick was intentionally walked and eventually, Lane came to the plate with the brothers on base, setting the stage for his heroics.
Grubb led the offensive attack for the Bells, getting three of the team's 12 hits. Lane and Poplawski each had two hits.
The Bells resume their three-game series against Klamath with game 2 on Friday night. First pitch is scheduled for 7:05 p.m.