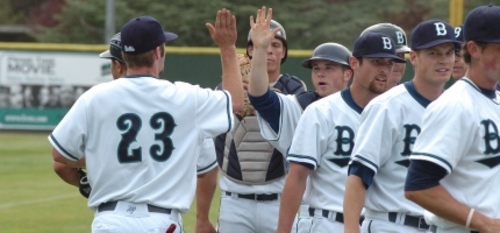 06/26/2011 11:57 PM
The Bells offense delivered in a big way on Sunday, producing 12 hits on their way to an 11-0 victory over the Klamath Falls Gems in the squad's most complete performance of the season.
Bellingham jumped out to an early lead after Eric Lane led off the game with a bloop double and scored on a single from Jeff Gelalich. Danny Poplawski provided some fireworks when he led off the second inning with a towering home run over the left field wall to give the Bells a 2-0 lead.
Pitcher Adrian Sampson held the Gems scoreless over the first four innings and the Bells extended their lead in the fifth with a two-out rally. Eric Lane walked and Gelalich singled again, setting the stage for a two-run double by Kai Hatch that moved the Bells lead to 4-0.
The Bells put the game out of reach with a seven run seventh inning. Kai Hatch played an integral part again, hustling out an infield hit that scored two runs. A pair of Klamath Falls errors proved to be costly for the Gems, leading to five unearned runs as Bellingham pushed their lead to 11-0.
Due to the lengthy seventh inning and commanding lead for the Bells, Sampson was removed after six innings. The Bells star right hander was dominant again, holding the Gems scoreless while striking out eight and allowing only two hits.
Richie Ochoa relieved Sampson and pitched two scoreless innings. Ryan Deeter ended the game with a scoreless inning of his own.
Five Bells had multi-hit games, led by Ben Grubb's three singles. Hatch's four RBI is the most for any Bells player in a single game this year.
The Bells continue their season with a nonleague game against Portland Tuesday night at Joe Martin Field. First pitch is scheduled for 7:05 p.m.