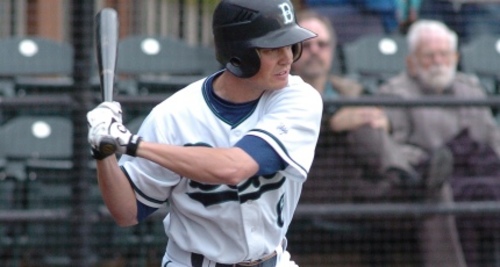 06/25/2011 11:00 PM
Mitch Merten pitched a complete game, three-hit shutout, leading his Klamath Falls Gems to a 4-0 victory over the Bells in Game 2 of the three-game series between the teams.

Merten displayed pinpoint accuracy all night, not allowing a walk while scattering three hits, all singles. The righty from UC Irvine had five strikeouts and needed only 105 pitches against the Bells.
Though Kolton Emery got the loss, he pitched well for Bellingham, giving up four runs in five innings, a stat line that is obscured because of multiple plays the Bells were unable to make in the field.
Klamath got their first run in the third after a routine popup got a gust of wind and was misjudged by Bellingham. After a Drew Sandler sacrifice fly in the fourth, the Gems further extended their lead in the fifth.
With one out and a man on first, Emery got Turner Gill to hit a sharp grounder to first base in what looked like a potential inning-ending double play. However, the ball got past the Bells first baseman and went for a double. Kainoa Crowell subsequently hit a hard single up the middle, scoring both runners to make the score 4-0.
Chris Howard entered the game in the sixth and did a very good job in relief, holding Klamath scoreless over two innings. Jack Vander Linden added another scoreless inning in the eighth.
Pat Gallagher got the Bells first hit of the ballgame, a single to centerfield in the fifth inning. Michael Aquino added an infield hit in the eighth and Ben Grubb singled in the ninth.
Bellingham will conclude their three-game series against Klamath Sunday night with a game scheduled to begin at 6:05 p.m.