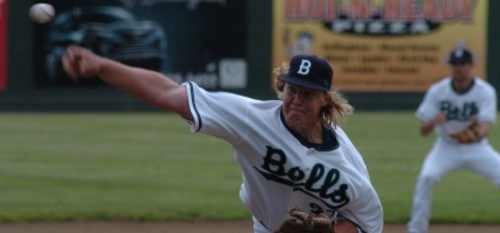 06/25/2011 12:20 AM

Click HERE to view the box score of this game.
Lately, the Bells have shown a pattern of not getting any runs until the game's late innings. Though the team was able to reverse that trend and take an early lead on Klamath Falls Friday night, it wasn't enough as Bellingham fell 6-5.
The Bells began the first inning with a single by Eric Lane and a walk to Jeff Gelalich. Ben Grubb then came to the plate and ripped a single into left field, scoring two runs.
The lead was short-lived however as Klamath exploded for four runs in the bottom of the third. Albert Selanders had an RBI fielder's choice and Nick Miller had a run-scoring single to tie the game. With two outs, catcher Drew Sandler delivered a clutch two-run single to give the Gems a 4-2 lead.
Bellingham battled right back in the top of the fourth, however, tying the game at four after Dillon Moyer had an RBI groundout to score Grubb and Michael Aquino scored on an error.
The back-and-forth affair continued when Klamath scored the go-ahead run on a wild pitch in the bottom of the fourth. The Gems got a much-needed insurance run in the bottom of the seventh when Selanders hit a leadoff triple and scored on a sacrifice fly by Miller, making the score 6-4.
Though the Bells got an unearned run on a Danny Poplawski single with two outs in the ninth, they were unable to sustain it as Gems closer Patrick O'Rourke struck out the next hitter to end the game and record the save.
Grubb and Kai Hatch led the Bells at the plate with two hits apiece, each recording a single and double. Tyler Spear and Nick Palewicz both held Klamath Falls scoreless in relief appearances.