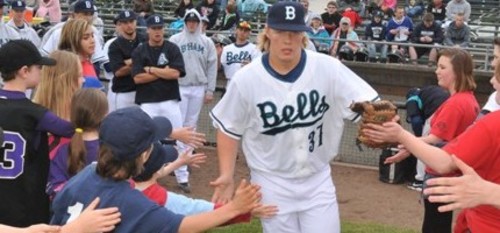 06/21/2011 2:33 PM
On July 19th and 20th, the Bellingham Bells will offer a one-of-a-kind camp for kids between the ages of eight and 12 years old. Led by all Bells coaches, two of whom are in the WIAA hall of fame, and selected Bells players, the camp will be designed to develop each youngster's fundamental skills and help them become better baseball players.
The camp goes from 10-1 each day and different skills will be taught. July 19th will feature a defensive series while the following day is offense. Not only will drills and skills be focused on each day, there will be a superstar competition and live games.
Among the instructors is Bells manager Gary Hatch, a three-time state champion and member of the Washington State Coaches Hall of Fame. Hatch is a longtime baseball clinician and has held camps in Washington, Oregon, British Columbia, Wisconsin, and North Carolina. He will be assisted by Jim Clem, a hall of famer who is 9th all-time in career victories in the state of Washington, and Bill Calkins, a longtime coach, commissioner of Washington State American Legion Baseball, and owner of the Northwest Baseball Institute
For the price of $65, each camper will not only receive top level instruction, they will also get a Bells camp t-shirt and two complimentary vouchers to any Bells home game after July 20th.
Parents will be pleased by the extra instruction camp leaders give the participants. Instructors keep a watchful eye on these young players, teach them fundamentals, and help instill a life-long of the game.
Due to the extra attention the instructors want to provide for each kid, space is limited. This camp is expected to sell out quickly. For more details, contact Bill Calkins at 360-391-3438 or [email protected]. You can also view the camp brochure at http://bellinghambells.com.ismmedia.com/ISM3/std-content/repos/Top/2011_Bells_Camp.pdf.