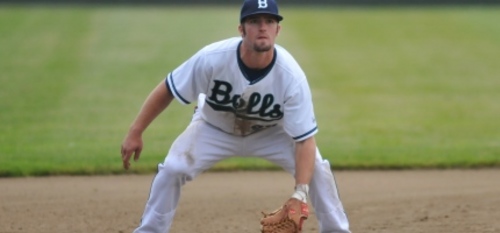 06/20/2011 10:49 PM
After 12 scoreless innings, the Bells finally defeated Cowlitz 1-0 when Danny Poplawski was hit by a pitch with the bases loaded in the bottom of the 13th, scoring Eric Lane.
The biggest story of the first nine innings was the dominance of Bells starting pitcher Adrian Sampson, a recent 15th-round draft pick of the Florida Marlins. Sampson kept Cowlitz hitless for the first eight and two-thirds innings as a buzz grew in the stands at Joe Martin Field about a possible no-hitter. Though Brett Thomas broke up the potential no-hitter on a sharp single to right with two outs in the top of the ninth, Sampson retired the next hitter, throwing nine scoreless innings on the night with nine strikeouts.
Grahamm Wiest pitched well for Cowlitz too, throwing seven scoreless innings and getting out of numerous jams with the help of his defense. The Bells had runners on second and third with one out in the sixth when Kai Hatch crushed a line drive up the middle. Shortstop Mitch Walding made a great leaping play to catch the ball and tag second for a double play.
Richie Ochoa stymied multiple Cowlitz rallies, as well. The Black Bears had runners on first and second with no outs in the top of the 10th before Ochoa retired the next three hitters. Cowlitz again had runners on first and second in the 11th inning before Ochoa got out of the jam.
The Bells patience at the plate ultimately led the team to victory. Lane led off the 13th with a walk and two more walks were attained before Cowlitz recorded two outs. The Black Bears changed pitchers but Poplawski was promptly hit on the first pitch, giving the Bells the win.
Ryan Deeter recorded the win after pitching a scoreless 13th inning.
The Bells resume play Cowliz in the second of a three game series Tuesday at 7:05 pm.