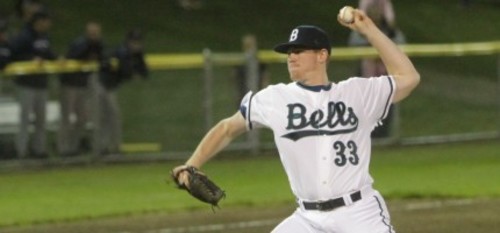 06/18/2011 7:55 PM
Unable to mount another late rally, the Bells fell 4-2 to the Corvallis Knights on Saturday to end their seven-game road trip. Bellingham received another night of stellar relief pitching but it wasn't enough as the pitchers from Corvallis were able to hold the Bells scoreless over the last five innings.
Corvallis struck first with two runs in the bottom of the third. With runners on first and second and nobody out, Jimmy Allen singled in a run. Bellingham's left fielder overthrew third base on the play, enabling Allen and Matt Foulon to advance to second and third, respectively. Foulon scored the second run of the inning on a groundout by Corey Davis.
Bellingham battled back though, answering with two runs of their own in the top of the fourth. Ben Grubb and Danny Poplawski each singled and Zane Yanzick was hit by a pitch to load the bases with one out. Marshall Yanzick delivered a clutch one-out single to score Grubb and Poplawski and tie the game 2-2.
The Knights answered with another two-run inning in the fourth. Matt Nylen came to the plate with men on first and third and promptly singled, scoring David Armendariz. Corvallis got their second unearned run of the game after the Bells catcher caught a bunt but threw wild to first, scoring Kramer Scott on the botched double play attempt.
Though Bellingham was unable to come back, Jack Vander Linden came in to throw three scoreless innings in relief. Kolton Emery, a two-play player for the Bells, held Corvallis scoreless in his one inning as well.
Pat Gallagher led the Bells with two hits. Marshall and Zane Yanzick each recorded a hit in a homecoming of sorts, as the brothers are from nearby Beaverton and had many family and friends in attendance. Marshall Yanzick had the defensive play of the game, making an over-the-shoulder sliding catch at second base to prevent a Corvallis run from scoring.
The Bells begin a three-game home series against Cowlitz on Monday. First pitch is scheduled for 7:05 PM.