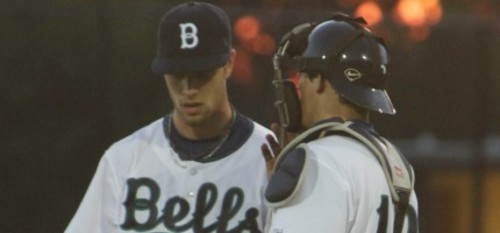 06/18/2011 12:15 AM
Led by solid pitching, the Corvallis Knights won both games of a doubleheader to open their three-game series against the Bells.
Game 1 ended 5-3 after Corvallis came back from an early 1-0 deficit generated by a Ben Grubb RBI single. The Knights got a run in both the second and third innings and scored three in the fifth to extend the lead to 5-1. David Andriese led the way offensively with two RBI while Adam Duke, Kyle Hart, and Mitch Patito combined to limit the Bells to five hits.
Both games were seven innings in regulation but game two went 10 innings. Bellingham took an early 1-0 lead after Kai Hatch scored on an Eric Lane fielder's choice. However, Corvallis came right back when Sean Myrom crushed a two-run home run over the fence in left-center field.
Once again, the Bells managed to come back and tie the game in the late innings, only to eventually fall. Pat Gallagher hit a double against the left-field wall that scored Hatch and tied the game at two in the sixth inning.
Mitch McQueen had another stellar relief performance, keeping Bellingham in the game. He came into the game with two outs in the bottom of the fourth and remained unscathed through the ninth inning. However, the Bells couldn't get him much offense, managing a mere three hits for the entire game.
Corvallis finally ended the game in the tenth when Alex Foulon doubled with one out and scored after the next hitter, Jimmy Allen, singled into centerfield.
The three-game series concludes tomorrow with a 12:35 PM starting time.