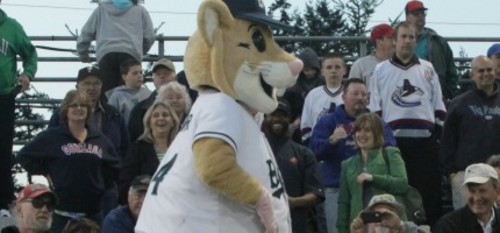 06/17/2011 8:47 AM
The Bellingham Bells will take on the Cowlitz Black Bears in a three-game series at Joe Martin Field beginning Monday. The Bells, 4-6 as of Thursday night, will be fresh off a seven-game road trip and will try to improve their record against Cowlitz, 2-7 as of Thursday.
Monday's game begins at 7:05 p.m. and features a Bells Eco-Friendly Bag Giveaway to fans as they enter Joe Martin Field. The bag can be used in many ways, with the most common as a re-usable grocery bag.
The next game of the series will take place on Two Dollar Tuesday, a fan favorite promotion where all night long, fans can take advantage of the following promotions:
Buy one Bleacher Reserved ticket and receive a second one for $2
$2 drinks during the game (fountain soda drinks and draft beer)
$2 nachos
The series will conclude with a 7:05 p.m. game Wednesday on Bells Cooler Bag Giveaway night, when the first 1,000 fans will receive the perfect cooler bag for a picnic at the park or a lunch to work or school.
One of the Bells starting pitchers will be Adrian Sampson, a recent 15th round MLB amateur draft pick of the Florida Marlins. Sampson has a 0.56 ERA in 16 innings pitched this season.
For Bells ticket information, call (360) 527-1035 or visit BellinghamBells.com.