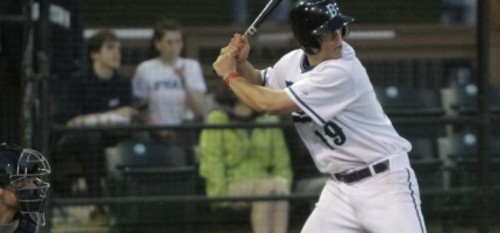 06/15/2011 11:21 PM
After the ninth inning madness of Tuesday night, the stage was set for another late Bells rally. The gritty team did everything they could to end their five-game losing streak. Everything, that is, except get one more hit, an all-too frequent occurrence of late, including Wednesday night in a 2-1 loss.
Despite being held scoreless in the first eight innings, the Bells pitching kept the team in a position to win, constantly escaping from jams. Chris Howard got the start and, in his Bells debut, gave up one run in 3 1/3 innings. Howard got out of a second inning jam by forcing a double play, and got two pop outs to end the third inning after Bend had men on second and third with one out.
Bend struck first in the bottom of the fourth inning when Tyler Christian scored on a wild pitch. The Elks extended their lead to 2-0 in the fifth inning after Bo Walter, the leading hitter in the West Coast League, delivered a clutch two-out single, scoring Royce Bollinger.
The Bells had numerous opportunities to score but couldn't find a clutch hit early. Marshall Yanzick grounded into a double play with the bases loaded in the fourth inning and Kai Hatch did the same with men on first and third in the fifth.
After the Bells loaded the bases with two outs in the ninth inning, Andy Fortuna delivered the team's first run of the game with a ringing single into left field that scored pinch-runner Zane Yanzick. However, Hatch was unable to extend the game, grounding into a fielder's choice at second base.
Carson Nylund gave up one run in 2 2/3 innings of relief work and Nick Palewicz pitched two scoreless innings. Pat Gallagher and Fortuna led the team with two hits apiece.
The Bells conclude their series with Bend on Thursday with a game that begins at 6:35 PM.