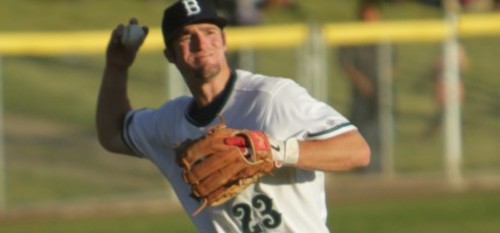 06/14/2011 9:55 PM
Though a series of mistakes by Bend enabled the Bells to tie the game with a two-run ninth inning, they were unable to parlay the luck into a victory, losing their fifth straight game by a final score of 5-4.
A pair of Cullen Hendrickson RBI hits in the third and fifth innings helped Bend jump out to a 2-0 lead. However, the Bells rallied this time as Eric Lane scored on a wild pitch in the sixth inning and Cody Hastings scored on a Lane infield hit in the seventh.
Bend came roaring back with a run in the bottom of the seventh and added one in the eighth after Toby Demello's single scored pinch-hitter Kyle Mauch scored from second on a very close play at the plate. It looked like the Elks would cruise to victory after Stephen Ostabeck got two outs in the top of the ninth.
Then the unthinkable happened.
Andy Fortuna came to the plate with Ryan Moore on first and hit what appeared to be a routine fly ball that would end the game. However, the center fielder lost the ball in the lights and it went to the wall, allowing Moore to score and Fortuna to advance to third.
Lightning would then strike twice when the next batter, Kai Hatch, saw his "routine" popup get lost in the lights by the second baseman. Fortuna scored and Hatch advanced to second, where he was eventually stranded.
Despite this stroke of luck, the Bells were unable to force extra innings. Bend loaded the bases and then pinch-hitter Nick Wagner hit a ball to deep centerfield that fell for a walk-off single.
Andrew Pulido pitched well s the Bells starter, allowing only one earned run in seven innings. Eric Lane led the offensive attack with three hits.
The Bells continue their series against Bend with a game on Wednesday that begins at 6:35 PM.