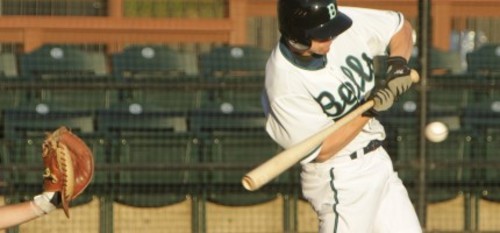 06/13/2011 10:20 PM
Though the Bells showed great improvement at the plate, it was not enough as they fell Monday night by a final score of 6-2. Bellingham's 11 hits were three more than they had in their entire home series against Kitsap but timely offense was the difference for the Blue Jackets.
Marshall Yanzick got the Bells out to a quick 1-0 lead with a towering double in the top of the second inning that scored Jeff Calhoon. However, Kitsap came back quickly, tying the game with an Evan Busby sacrifice fly in the third inning.
The most pivotal play in the game came in the fourth inning, when Kitsap had runners at second and third with one out following a Kolton Emery balk. A "suicide squeeze" bunt was executed by Sean Narby, scoring the runner from third. An alert Chris Murphy dashed home from second on the throw to get Narby at first, pushing Kitsap ahead 3-1.
Ben Grubb delivered the Bells first home run of the year with a towering shot over the left field fence in the fifth inning to make it a 3-2 ballgame.
That was the closest the Bells would get though as Kitsap gave themselves a cushion with a three-run sixth. Spencer Brann hit a two-run double and Cole Norton provided a run-scoring single to make the game 6-2.
Though Emery received the loss, he pitched well, allowing three runs on three hits while striking out six in five innings of work. Mitch McQueen had another stellar relief performance, throwing 2 2/3 scoreless innings.
The Bells hitting attack was led by the home run from Grubb, three hits apiece from Kai Hatch and Jeff Calhoon, and two hits by Yanzick.
The Bells continue their road trip with three games in Bend, followed by three in Corvallis.