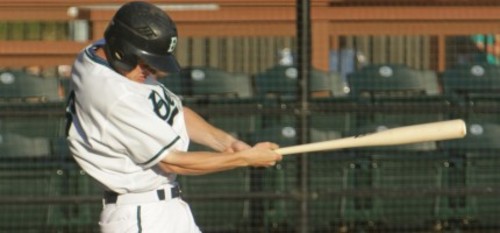 06/12/2011 7:46 AM
Entering Saturday night's contest with the Bells, Kitsap starting pitcher Blake Golding was somewhat of an unknown, having only pitched two innings this season for the University of Utah. By the end of the night, Golding would leave a lasting impression on those in attendance at Joe Martin Field - that of someone who silenced the Bells bats in leading his team to a 2-1 victory.
Golding dominated the Bells giving up two hits in eight innings of work while striking out seven and allowing no earned runs. Though his fastball only reached the low 80s, Golding changed speeds extremely well and consistently got ahead in counts. Golding only walked one Bells hitter.
Four days after getting drafted in the 15th round by the Florida Marlins, Adrian Sampson did his best to keep the Bells in the game. Though not as dominant as in his last start, he held Kitsap to two runs (one unearned) in seven innings. Sampson had eight strikeouts and was able to escaped jams on occassion.
The Bells hits came with singles by Eric Lane and Jeff Calhoon.
Bellingham continues to have solid relief pitching. Carsen Nylund pitched two scoreless innings tonight and the bullpen has held the opposition scoreless in 9 1/3 innings thus far this summer.
The final game of the series begins tomorrow at 6:05 p.m. at Joe Martin Field. After that, the Bells embark on a six day road trip.