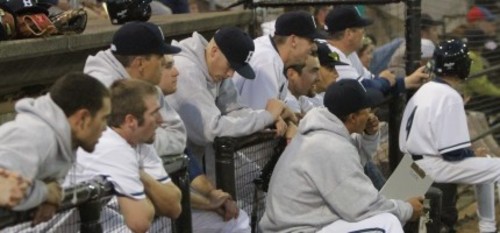 06/10/2011 11:13 PM
Led by a four-run second inning, the Kitsap Blue Jackets defeated the Bellingham Bells 4-3 Friday night, in the process extending their winning streak to four games and dropping the Bells to 3-1 on the season.
Though the Bells made a spirited comeback, Kitsap's second inning offensive explosion proved to be too much. The inning got started with a rare Eric Lane error at third base. Evan Potter had an RBI single and second baseman Matt Forgatch delivered the crushing blow, a two-run double.
The Bells answered with a run in the second and continued to chip away, scoring a run on a Danny Poplawski RBI double in the fifth inning and a Cody Hastings single in the sixth inning.
Though Bellingham had only four hits, they continued to threaten, drawing four walks and four hit by pitches. However, Kitsap's pitching staff rose to the occasion every time, preventing the Bells from drawing even. Terik Gofinch got the win, giving up two runs in five innings. Matt Cartwright continued to be dominant as the team's closer, striking out three of the four hitters he faced for his third save of the year. Cartwright has now thrown 5 2/3 scoreless innings this season.
Though Bells starter Kyle Schepel struggled during the second inning, he settled down, holding Kitsap scoreless over the next four innings. Schepel had eight strikeouts in his six innings of work.
The Bells bullpen continued its dominance as Mitch McQueen and Tyler Spear combined for three scoreless innings. Bellingham's relief pitchers have held the opposition scoreless in 9 1/3 innings so far this year.
Bellingham and Kitsap will square off Saturday in the second game of a three-game series. First pitch is scheduled for 7:05 p.m. at Joe Martin Field. There will be Bells trophy hat figures handed out to fans in attendance to Saturday's game.
For ticket information, call the Bells office at (360) 527-1035.