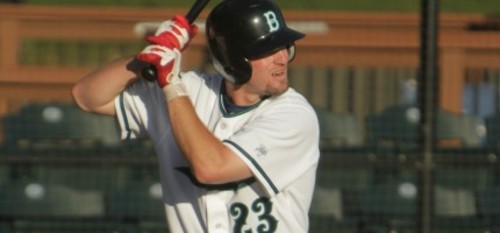 06/09/2011 3:45 PM
Bellingham, Wash. – Coming off a season-opening sweep of the Kelowna Falcons, the Bells get back to action this Friday as they begin a three-game series against the Kitsap Blue Jackets. Kitsap, 3-2 through Wednesday's action, is in a tie for first atop the WCL's West Division.
Mariners legend Dave Valle will be on hand Friday to throw out the first pitch and sign autographs prior to the 7:05 p.m. start time. On the field, the Bells will feature starting pitcher Kyle Schepel, who is making his team debut. Schepel was a Division 2 honorable mention All-American and went 11-0 with a 2.57 ERA for Grand Valley State.
Friday evening is also Youth Baseball and Softball Night at Joe Martin Field, where coaches and young players will get to participate in a talk with Bells coaches. Gates open at an earlier than usual at 5:35 p.m. for those youth baseball and softball players.
Saturday is Bells Trophy Hat Night, a one-of-a-kind giveaway where the first 1,000 fans receive a replica of the Bells home game hat. Bells right hander Adrian Sampson will get the start on the hill for the Bells on Saturday after his dominant complete game shutout against Kelowna on last Sunday. Sampson was drafted in the 14th round by the Florida Marlins on Tuesday.
Sunday will be the last Bells home game for a span of eight days. Like all other Sunday games, first pitch is at 6:05 p.m. and it is Haggen Family Night. The Bells Picnic Pack will be available, with affordable prices for families or groups. Leko Galucha, the pitcher from the season-opener, will be on the mound. He got the win in his first start, going eight innings and allowing two runs.
For information regarding tickets, group packages and/or sponsorships, please contact the Bellingham Bells offices at (360) 527-1035 or via email at
[email protected]