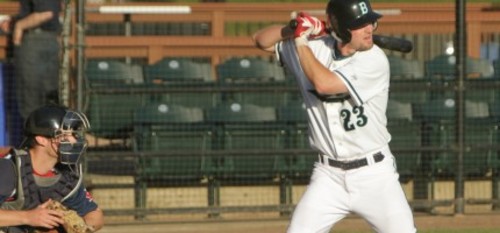 06/06/2011 8:40 AM
Bells pitcher Adrian Sampson dominated the Kelowna Falcons hitters en route to a complete game, five-hit shutout, leading the Bells to a 4-0 victory that completes a season-opening sweep of Kelowna. With his second straight complete game shutout, Sampson has now recorded 18 consecutive scoreless innings.
As impressive as Sampson was, he was backed by a sharp defense that made some great plays, perhaps none bigger than Danny Poplawski's unassisted double play. The Bells were clinging to a slim 1-0 lead in the fifth inning when Kelowna began to mount a rally, getting two men on base with one out. Beau Hanowski drilled a line drive to the right side but Poplawski made a leaping catch and dove back into first base before the runner could get back, preventing what likely would have been two runs.
The Bells were able to extend their lead to 3-0 in the bottom of the sixth thanks to a crucial Kelowna error. Cody Hastings began the inning with a base hit and Poplawski attempted to move him over with a sacrifice bunt. Kelowna pitcher Tyler Huffer fielded the bunt and threw wildly to first, allowing the baserunners to move to second and third, which ultimately resulted in two unearned runs. Only one of the four runs Huffer allowed was earned.
Bells' manager Gary Hatch continued his go-for-broke strategy on the basepaths. The Bells got their first run on a designed double steal when Cody Hastings was able to stay in a "pickle" long enough for Eric Lane to cross home plate. A "suicide squeeze" bunt was executed perfectly in the sixth inning by Ben Grubb to score Poplawski and give the Bells a 3-0 lead.
"We like to put the game in motion and force the other team to make a play," said Hatch. "It's important to try and take advantage of every situation where we have a baserunner."
As a result, the Bells are now in a very favorable "situation" themselves- 3-0 and sitting atop the standings in the East Division of the West Coast League. Next up for the Bells are the Kitsap BlueJackets at Joe Martin Field on Friday, June 10 at 7 p.m.