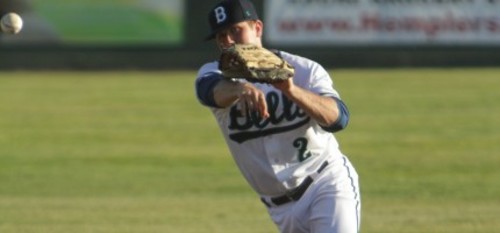 06/05/2011 2:19 PM
Bellingham, Wash. -- Everybody around Ben Grubb said it was coming. Though he struggled at the plate this year for the University of Portland, coaches and teammates alike knew it was only a matter of time until he broke out of his slump.
Saturday night, Grubb broke through with one powerful swing of the bat. With his team trailing 3-2 in the bottom of the fifth inning and two outs, Grubb crushed a ball against the outfield fence for a two-run double, the runs that would prove to be the difference in a 4-3 Bells victory.
It was a seesaw game that saw multiple changes in momentum. The Bells got off to a quick 2-0 lead as Kelowna starting pitcher Brandon Marris struggled to find the strike zone. Marris hit the first two batters of the game and walked another as the Bells got their pair of runs with a lone base hit-Ryan Moore's RBI single.
Both Marris and Bells pitcher J.R. Bunda began to dominate the game, with Bunda facing the minimum number of hitters through three innings.
However, Kelowna battled back in the fourth inning with three runs. Bunda gave up a leadoff walk and single and then Victor Rasor-Thompson provided the biggest blow with a ringing double that scored a run. The Falcons would add two more and chase Bunda after 3 2/3 innings.
The Bells received excellent performances from their relief pitchers though. Carsen Nylund got out of the fourth-inning jam, Jack Vander Linden got the win with a scoreless inning, Mitch McQueen looked dominant in his two innings, and Michael Curtis got the save on his first day in Bellingham.
With that, the Bells moved to 2-0 on the season.
"I'm really proud of how the guys have been competing," said Bells manager Gary Hatch. "We're already developing team unity and I think that really showed tonight."
With the team's successful start and two large crowds at Joe Martin Field, the Bells front office is pleased.