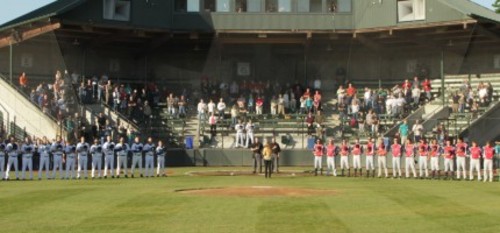 06/04/2011 10:59 AM
Led by the stellar pitching of Leko Galusha, the Bellingham Bells opened their season with a 6-2 victory over the Kelowna Falcons Friday night in front of a spirited crowd at Joe Martin Field.
After the Falcons struck first with a run in the top of the second behind two leadoff singles, Galusha quickly settled down. He would hold Kelowna scoreless over the next 6 innings of play. Though Galusha tired in the ninth and was charged with Kelowna's second run, he allowed a mere two runs on five hits in eight innings while throwing 129 pitches.
Meanwhile, the Bells took advantage of their opportunities. Though they only recorded six hits, Kelowna issued 10 walks and committed three errors. Only one of the Bells six runs was earned.
Offensively, the Bells were led by Eric Lane and Kai Hatch, who combined for five of the team's six hits. Lane, a standout third baseman from Gonzaga, went three for four with a walk. Hatch went two for three with two walks and displayed his speed, stealing two bases.
"It's great to get a win in front of all these fans," said Kai Hatch.
The result was a welcome one for all the home-town fans witnessing the new-look Bells on a beautiful night at Joe Martin Field.