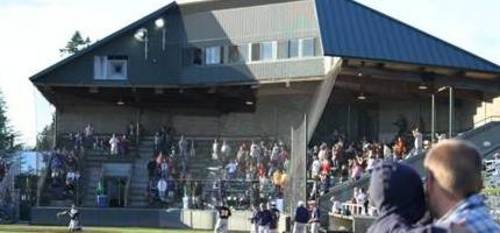 06/02/2011 11:48 PM
Bellingham, Wash. – The Bellingham Bells open their season this Friday as they kick off a three-game series against the Kelowna Falcons at Joe Martin Field. First pitch is scheduled for 7:05 P.M. and the first 1,500 fans into the ballpark will receive a magnet schedule presented by Little Caesar's. Following the game, the night sky will be lit up with a fireworks show put on by Silver Reef Casino.
Saturday and Sunday will bring more festivities to Joe Martin Field. Prior to Saturday night's 7:05 P.M. game, the first 1,500 fans entering the gates of Joe Martin will get a Bells logo decal presented by Banner Bank. Another fireworks display will conclude the evening.
Sunday's game, beginning at 6:05 P.M., will be the first Bells Family Night and will feature the Bells Picnic Pack, a discounted series of food items.
Friday will also mark the public's first opportunity to see the "new-look" Bells- including new uniforms, new logos, and numerous renovations to Joe Martin Field.
Part of these changes include an entirely new coaching staff. Bellingham's own Gary Hatch, the legendary coach of Sehome High School, is the Bells new manager. His longtime friend and coaching rival, Jim Clem of Burlington-Edison, will serve as the Bells pitching coach. Sehome and Burlington-Edison met in the state title game last Saturday.
One of the players in a Bells uniform this summer will be Kai Hatch. A graduate of Sehome High School and the nephew of Gary Hatch, Hatch hit .335 at Utah Valley this past season with a team-leading 11 stolen bases.
The Bells open their season on Friday, June 3rd at Joe Martin Field against the Kelowna Falcons. For information regarding tickets, group packages and/or sponsorships, please contact the Bellingham Bells offices at (360) 527-1035 or via email at
[email protected]