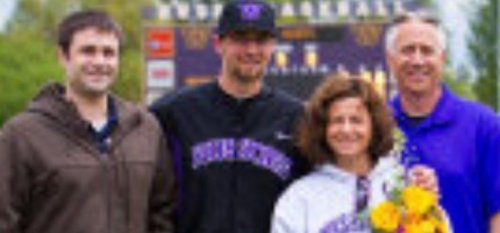 05/27/2011 5:08 PM
by Josh Liebeskind (UW Daily)
Click HERE to view this story on the University of Washington athletics website.
Jacob Clem barely has to be prodded to share the basketball story.
As he describes it, he was in seventh grade and his older brother Zach Clem, whom he'd never beaten, was a junior in high school with a considerable size advantage. But on that day, in front of their home in Burlington, Wash., Jacob was able to hit a turnaround fade away, a prayer of a shot, and finally knock off his older brother.
"I did a victory lap around the neighborhood; he was so pissed," Clem said, chuckling. "I thought that was the best thing ever."
A smile breaks out over Zach's face when he hears the story. Then he recounts the aftermath like it happened yesterday.
"To this day, I've never seen him celebrate as much as he did that day," he said, not able to contain a laugh as he glanced at his younger brother. "He's won championships, and [yet] I've never seen him run around the field with his arms up in the air like he did around the block. It was so funny and I was so frustrated and kind of smiling at the same time."
Smiling. That sums up the brothers' relationship perfectly. Spend any amount of time with them, and you will be hard-pressed to not see a smile, a laugh and brotherly love. This perhaps made their childhood pleasant and fun, but it has also contributed to the development of a pretty-darn-good baseball player.
That baseball player would be Jacob, a fifth-year senior pitcher for the Washington baseball team who just threw a complete-game shutout against No. 13 Arizona State on Senior Day this past weekend, his second complete-game shutout of the season.
Much of his success can be attributed to Zach, a 27-year-old financial analyst for Swedish Medical Center, who used to be a heck of a good ballplayer himself for the Huskies.
In fact, Zach left the UW in 2006 after four years with the Huskies with a .322 batting average, 41 home runs and 143 RBI. While a Husky, he was teammates with current major leaguers Tim Lincecum, Brent Lillebridge and Sean White as teammates. He also played minor-league baseball with the Milwaukee Brewers organization before a string of concussions forced him to retire.
Suffice to say, he knows his way around a baseball field.
The same goes for Jacob, but he will be the first one to tell you that he has had the added bonus of his brother as a mentor.
From an early age, Zach would keep his brother close. When Jacob was in eighth grade and Zach was a senior in high school, Jacob would tag along to his older brother's baseball practices, helping out, and even joining practice when he could.
"He'd always be good to me and all his friends would be, so when I was a freshman, I knew all the older guys already," he said. "It made the transition easy, and that's a tribute to him and looking out for me."
With the combination of his dad as the varsity baseball coach at Burlington-Edison High School and making the varsity team as a freshman, it would have been easy for the older players to dismiss Jacob as the coach's son receiving preferential treatment. He fully believes that would be the case if it weren't for his older brother helping him make the transition before he entered high school.
Their father, Jim Clem, who retired in 2006 after 28 years as head baseball coach at Burlington-Edison, noticed Zach taking Jacob under his wing from afar and was the glad to see the positive outcomes.
"They've always had a great relationship, just right from the start," he said. "From the time Jake was born, Zach always was a great big brother to Jacob. They've never fought -- that's always so unusual for siblings. They've just always been friends, and Zach was a lot of fun for Jake to be with, and I think Zach thought his little brother was pretty cool, too. It was a very good, brother-looking-out-for-brother relationship."
And it was a good thing that their relationship was solid, because Jacob was forced to go to game upon game that Zach played in growing up. Jacob says he would hang out with his friends, many of whom had older brothers on Zach's teams, and watch his brother play.
"We get along really well, so that part was really good growing up, and it made it not so bad at all to go to his games and support him," he said, estimating that he'd gone to hundreds of his brother's games growing up.
In typical sibling fashion, Zach recounts the memory a little differently: "Most of the time, they were on a field next to us, not even watching, playing themselves."
The same way Zach made Jacob's transition to high-school baseball easy, he made it easy for him to come to the UW to play. When Jacob made the decision to become a Husky in the fall of 2006, Zach introduced him to his teammates and made sure he was comfortable when he arrived the following year. Consequently, even though he graduated college the same year Jacob graduated high school, his younger brother was not joining the UW team without knowing anyone.
In fact, Zach made sure he was the UW player that was in charge of Jacob's recruiting trip.
"It was pretty fun," Zach said of taking his brother and around seven other recruits out to dinner. "All the other recruits were like, `That's your brother?' Nobody really knew, so that was pretty fun."
Thus, Jacob's transition to the UW was fairly easy. He started as a two-way player, both hitting and pitching, and didn't become a full-time pitcher until two years ago. He's blossomed in his new role, though, using his odd sidearm delivery to limit opposing batters to a .222 batting average in 2010 and sporting a 4-5 record with a 3.71 ERA this season, all the while receiving very little run support.