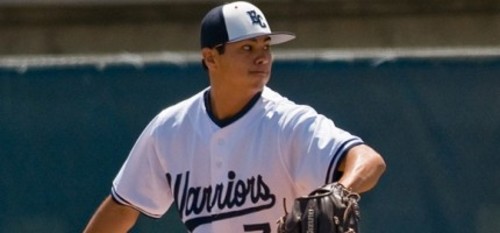 05/27/2011 3:54 PM
Brandon Boyle, a right-handed pitcher from Lower Columbia Community College, and Andrew Pulido, a right-handed pitcher from El Camino Community College, have signed West Coast League contracts to play this summer in Bellingham. The duo will strengthen a pitching staff that includes 12 right-handed pitchers and five lefties.
Boyle, a 5-foot 9-inch, 190-pounder from Lacey, Washington, is in his freshman season after a sterling high school career at River Ridge High School. He was named all-state his senior year. Boyle features excellent control and a fastball that can reach 92 MPH.
Pulido, a 5-foot 10-inch, 165-pounder, has enjoyed great success in his sophomore season. Recently named a 1st team all-South Coast Conference selection, Pulido has a 2.24 ERA and 39 strikeouts in 60 1/3 innings. Pulido had an outstanding senior season at Torrance High School, posting a dazzling 13-1 record and 1.17 ERA. Displaying his excellent command, Pulido had 67 strikeouts and only 10 walks. He led his team to the CIF Championship game and was named player of the year by the Daily Breeze.
"Brandon and Andrew are proof that you don't have to be 6'4" to be a successful pitcher," said Bells manager Gary Hatch. "What they lack in size, they make up for with control and command."
The Bells open their season on Friday, June 3rd at Joe Martin Field against the Kelowna Falcons. For information regarding tickets, group packages and/or sponsorships, please contact the Bellingham Bells offices at (360) 527-1035 or via email at
[email protected]