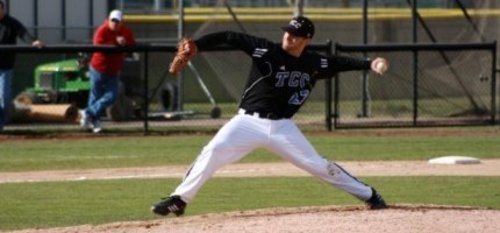 05/13/2011 1:56 PM
Bellingham, Wash. – The Bells have signed three players from Washington state community colleges to bolster their pitching staff. Andrew Olson, a left-hander from Tacoma Community College, will join fellow lefty Jacob Coats of Everett Community College and right-hander Adrian Sampson of Bellevue Community College for the upcoming season, which begins on June 3rd.
Olson made a splash last year in his freshman season at TCC. He posted an 8-2 record with a 2.42 ERA and was the only freshman pitcher named to the 2nd team All Western Division team. Despite receiving multiple Division 1 offers, Olson decided to remain at TCC for his sophomore season. The 6-foot-1-inch, 205-pound lefty from Enumclaw, Washington, has since committed to play at Seattle University next year, where coaches expect him to make an immediate impact. Olson played last summer for the Olympia Athletics of the Puget Sound League.
Coats, a 6-foot-4-inch, 195-pound sophomore from Twin Falls, Idaho had a decorated high school career that included him being named Idaho's Gatorade state Player of the Year in his senior season. During his senior campaign in high school he went 8-2 with a 1.79 ERA and a staggering 86 strikeouts in 56 innings, while batting .432 with four home runs and 24 RBI. Coats was 5-3 with a 3.34 ERA at the College of Idaho last year before transferring to Everett. He will pitch for the University of Washington next year.
Sampson is entering the season ranked by Perfect Game as one of the top 50 junior college prospects in the country, he has not disappointed, going 4-1 with a 1.86 ERA and 45 strikeouts in 38 2/3 innings. He is a 6-foot 3-inch, 195-pound freshman from Sammammish, Washington that is a highly decorated prospect. Though Sampson was unable to pitch in his senior season at Skyline High School due to injury, he was named team MVP and first team All-KingCo his sophomore and junior seasons. Sampson's brother, Julian, is currently pitching in the Philadelphia Phillies' minor league system.
"We are tremendously excited to have three pitchers of this caliber," said Bells manager Gary Hatch. "Each of them has great stuff and is capable of making a major impact not only this summer and throughout their college careers, but beyond as well.
The Bells open their season on Friday, June 3rd at Joe Martin Field against the Kelowna Falcons. For information regarding tickets, group packages and/or sponsorships, please contact the Bellingham Bells offices at (360) 527-1035 or via email at
[email protected]