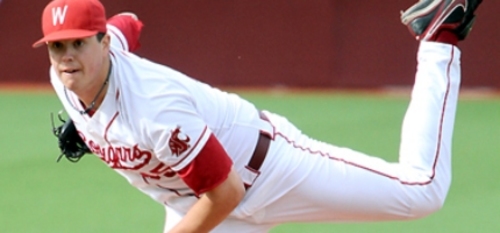 Photo by Greg Davis Sports Photography
04/29/2011 8:45 AM
Bellingham, Wash. – Mitch McQueen and Richie Ochoa, a pair of pitchers from Washington State University, will remain in the state of Washington and play in the West Coast League this summer. The Bellingham Bells have signed the duo to contracts for the upcoming season, which begins on June 3.

Ochoa, 6-foot-2 and 247 pounds, has developed into one of WSU's best pitchers. He has a 4-1 record and 2.70 ERA, the lowest of any Cougar with 14 or more appearances. This is a great improvement on his freshman season, in which he had a 6.21 ERA while going 2-2.
Ochoa is very durable and has averaged nearly two innings in his 14 relief appearances this collegiate season. This will be his second straight summer in the West Coast League, after going 1-2 with a 3.05 ERA last summer for the Bend Elks. Ochoa was named league MVP following his senior season at Friday Harbor High School, where he was also the basketball team's center.
"Richie will be a key member of our pitching staff," Bells manager Gary Hatch said. "He is a workhorse who will have an impact from day one."
McQueen, 6-foot-2 and 170 pounds, is a right-handed freshman from Auburn, Washington and features a low-90s fastball. He occasionally plays catcher as well and hit .338 during his senior year of high school. He struggled with tendinitis in his throwing arm during that season at Thomas Jefferson High School but developed as a pitcher the last two summers while playing for the Kent Bulldogs. He had a 2.90 ERA in the summer of 2009.
"Mitch is a bit of a late bloomer who nonetheless has tremendous potential," said Hatch. "He has a lively arm and we look forward to seeing what he can accomplish playing at full health."
The Bells will play their season and home opener on June 3 at Joe Martin Field against the Kelowna Falcons.
Individuals and companies with inquiries about season tickets, corporate sponsorship opportunities, or any other matters related to the ballclub, are encouraged to contact the Bellingham Bells office at (360) 746-0406, or via e-mail at
[email protected].