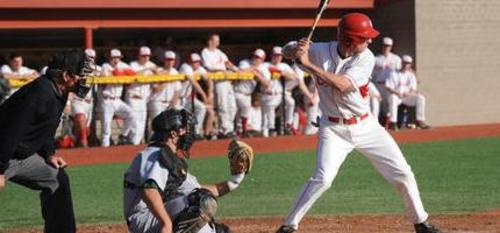 04/27/2011 10:33 AM
Bellingham, Wash. – Marshall Yanzick, a junior infielder from Cornell University, and Zane Yanzick, a freshman outfielder from Wake Forest University, have signed contracts to play West Coast League baseball this summer for the Bellingham Bells. The brothers, from Beaverton, Oregon, will be returning to the Pacific Northwest to play together for the first time since their 2008 high school season.
Marshall Yanzick has experience in the West Coast League, having played for the Walla Walla Sweets last summer. He batted .232 with 7 RBI in 29 games. Marshall had a stellar high school career that included all-league selections at Jesuit High School in 2007 and 2008 and a selection to the Baseball Northwest World Wood Bat Team. He has shown consistent development in his three years at Cornell and currently leads the Big Red with a .322 batting average in 35 games, an improvement of over 100 points on his batting average from last season.
"Marshall is an excellent hitter who is just now tapping into his full potential," said Bells manager Gary Hatch. "We look forward to him being a strong contributor for the Bells this summer."
Zane Yanzick was a much heralded recruit coming out of Jesuit High School, which was ranked in 2009 by Sports Illustrated as the number one athletic high school in the country. Zane was a two-time team MVP and first-team all-league player in baseball. He also earned the highest SPARQ score in Baseball Northwest history and was invited to try out for the U17 USA National Team.
Marshall and Zane come from an athletic family, with a grandfather who played for the Brooklyn Dodgers. Zane has seen occasional action in the highly competitive Atlantic Coast Conference this season but has a .316 on-base percentage in 37 plate appearances. Known as a threat on the base paths, Wake Forest coaches have had him attempt to steal nearly half the time he's reached base.
"Zane has a lot of natural talent and is an excellent athlete," said Hatch. "The sky is the limit for him and at this point, he just needs more reps, which we look forward to providing him."
The Bells will play their season and home opener on June 3 at Joe Martin Field against the Kelowna Falcons.
Individuals and companies with inquiries about season tickets, corporate sponsorship opportunities, or any other matters related to the ballclub, are encouraged to contact the Bellingham Bells office at (360) 746-0406, or via e-mail at [email protected].