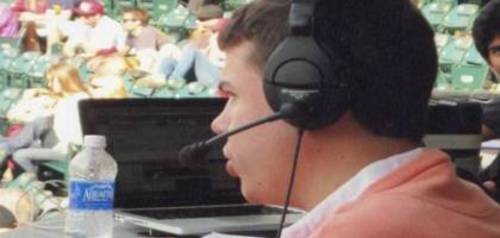 04/26/2011 10:07 AM
Bellingham, Wash. – The Bellingham Bells have hired Johnie Freatman, an undergraduate student at the University of Southern California, to be the play-by-play broadcaster for the 2011 season of West Coast League baseball in Bellingham. Freatman, who is pursuing a B.A. in Communication with a minor in Journalism, is completing his sophomore year at USC. He will graduate in May 2013.
"It's an incredible honor to be the voice of the Bells. I couldn't be more excited about the vision Eddie (Poplawski) and Blake (Buswell) have for this team and its place in a baseball-rich community like Bellingham," Freatman said. "This is an amazing opportunity and I hope to make a lasting impact not only in the broadcast booth but in the community as well."
Freatman arrives in Bellingham with a wealth of broadcasting experience. At USC, he has broadcasted football and men's and women's basketball for the school's radio station, KXSC. He has also served as a voice of the Trojans baseball team for usctrojans.com, the school's official athletic website. He co-hosts a sports talk show at USC, has done extensive color commentary and sideline reporting, and has hosted pregame shows for USC football games.
"We are absolutely thrilled to have Johnie join our team," said Bells' general manager, Blake Buswell. "Johnie is an incredibly talented young broadcaster who will bring a great deal of energy and enthusiasm to our ballclub throughout the coming season."
Freatman has very strong connections to Bellingham and the state of Washington. He grew up in the Seattle area, spending his middle and high school years on Mercer Island. His great grandparents and grandfather were raised in Bellingham and his mother was born here. He has had family members living in the city for around 120 years, with multiple cousins residing here now.
"It's very serendipitous that I'll be getting this opportunity in the same place that my family has been for so many years," said Freatman.
A highly regarded writer, Freatman recently won USC's prestigious Malamud Scholarship. He writes frequently for neontommy.com, has freelanced for the UK-based Evercore Media Group, and has written for pgatour.com.
Freatman has excellent marketing and media relations skills as well. He was the remote show coordinator for KXSC in 2010-2011 and he was recently named the station's marketing director for the 2011-2012 school year.
The Bells will play their season and home opener on June 3 at Joe Martin Field against the Kelowna Falcons.
Individuals and companies with inquiries about season tickets, corporate sponsorship opportunities, or any other matters related to the ballclub, are encouraged to contact the Bellingham Bells office at (360) 746-0406, or via e-mail at [email protected].