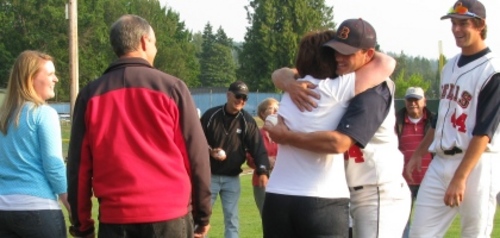 03/17/2011 2:59 PM
So where do players live while they play for the Bells during the summer? The answer is "with families in our community" says team General Manager Blake Buswell. "Being a host family is not unlike having an exchange student for the summer except for when you host a ball player, you not only open your home to an 'adopted' son (or two), you also get the chance to witness first-hand the excitement, exhilaration and occasional heartaches that befall young men as they chase the dream of playing professional baseball."
Host families are a common practice in many summer collegiate leagues around the country, including the Cape Cod League and the Alaska League, as well as the lower levels of affiliated minor league baseball. Big league players often recall with fondness the families they stayed with for summer league play and many keep in touch with those families today…and the positive feelings go both ways.
"The Bells players were wonderful role models to our grandsons," said Janet Arntzen of Bellingham who had three Bells players stay with her family for the 2010 season. "On days off they even played 'street ball' with them. Having a ball player around the house can be a lot of fun for families and equally important, it provides a safe environment for these young men who may be away from home for the first time."
Arntzen went on to say, "We were so blessed by this opportunity."
Host families for the Bells receive special benefits for their participation, including: free tickets to all home games for each member of the family living at home, 50% discount on the fee for the Bells summer baseball camp for each (age appropriate) kid living at home, two Bells hats and t-shirts, a 20% discount on all Bells team merchandise throughout the season and a special night at the ballpark where host families will be honored by the team and the community.
In addition to providing a player his meals and a room to sleep in, host families help make sure the player has a way to get to and from the ballpark. While adding an extra person to the family food budget is not insignificant, it is important to remember that players are only in Bellingham for half the summer as the team travels for 30 road games, so the burden should not be too overwhelming.
To provide interested families with an opportunity to learn more about the role of a host family, we have scheduled an informational session from 6:30 – 8:00 PM on Tuesday March 29th. Details regarding the meeting's location and overall agenda will be provided upon receipt of your RSVP. In order to confirm you attendance, please call or email Blake Buswell, the Bells General Manager: Blake's contact information is as follows: Office Phone: 360-746-0406 – Email: [email protected].
Current and past host families will be available to answer any questions and attending the session does not commit you to being a host family; the purpose of this meeting is simply to provide individuals with an opportunity to learn and gather more information regarding the host family program and to enjoy a beverage and some appetizers. "And there may be some fun news regarding the Bells to share that evening as well," said Buswell.
The Bells open their season on June 3 at Joe Martin Field against the Kelowna Falcons. For ticket information contact the Bellingham Bells offices at (360) 527-1030, or via e-mail at [email protected].