02/14/2011 10:49 AM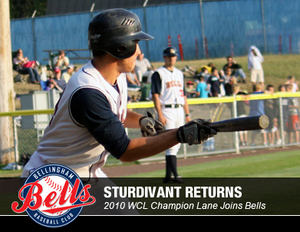 The Bellingham Bells have signed Chris Sturdivant to a 2011 West Coast League contract as the outfielder sets to return for a second season with the ballclub. The Gonzaga University product is also bringing collegiate teammate and 2010 WCL Champion Eric Lane.
Sturdivant hit .291 for the Bells in 51 games with the Bells in 2010. The Gonzaga junior, who has a .292 career batting average for the Bulldogs, led the Bells with 53 hits and also stole 15 bases. Sturdivant was a key player down the stretch as he hit .400 (10-of-25) to help the Bells win their final seven games of the season.
At college, Sturdivant appeared in 41 games for the Bulldogs in 2010, including 30 starts in right field. The Redmond, Wash., native collected a .276 batting average as a redshirt sophomore while collecting 26 RBI, 26 runs scored, 17 base on balls, and a .393 on-base percentage.
Lane spent the 2010 summer playing for the WCL champion Wenatchee Applesox. He had a combined .233 average at the plate which included a .500 mark during the playoffs. Prior to suiting up for the Applesox, Lane attended Lower Columbia College (LCC) in Longview, Wash., where he helped lead his squad to a 2010 Northwest Athletic Association of Community Colleges championship. With LCC, Lane finished second in the NWAACC with a .404 batting average and 43 RBI.
"It's exciting to see the roster coming together and the caliber of the young men we will have on our team this season," said Bells head coach Gary Hatch. "Chris is an outstanding player and from everything we've seen and heard he should be even more exciting to watch this spring at Gonzaga and this summer here in Bellingham.
"Eric is a proven winner and knows what it takes to reach the ultimate prize in this league. He's won at the college level and in the WCL and has proven that he knows how to take it up a notch to get the job done with his performance in the WCL playoffs last season. I'm excited to have both of these guys on our roster and want to thank Gonzaga head coach Mark Machtolf for his continued support of this league and Bellingham Bells."
Gonzaga opens its 2011 campaign on Friday (Feb. 18) on the road in Fresno, Calif., as they take on Fresno State University.
The Bells open their 13th season on June 3 at Joe Martin Field against the Kelowna Falcons. Individuals and companies with inquiries about season tickets, corporate sponsorship opportunities, or any other matters related to the ballclub, are encouraged to contact the Bellingham Bells offices at (360) 527-1030, or via e-mail at [email protected].
About the Bellingham Bells
The Bellingham Bells are a professionally operated collegiate summer baseball team in the West Coast League striving to provide their fans, sponsors, and partners with the very best in competitive baseball and affordable entertainment in a family-friendly atmosphere. The team is comprised of college baseball players from across the country. In recent years, the Bells have helped produce a number of major leaguers including Jeff Francis of the 2007 National League Champion Colorado Rockies and Whatcom County natives Ty Taubenheim and Kevin Richardson.