11/08/2010 9:05 AM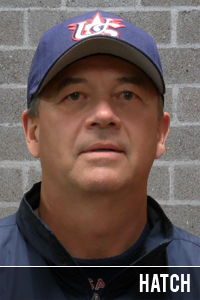 Longtime Sehome High School head baseball coach and Washington State Baseball Coaches Hall of Famer Gary Hatch has been named the new head coach of the Bellingham Bells replacing Kevin Matthews, who resigned after the 2010 season to pursue interests outside of baseball.

Hatch has also tabbed former longtime Burlington-Edison High School baseball coach Jim Clem and current Washington State American Legion Commissioner and owner of Baseball Academy, Bill Calkins, to serve as assistants.

"Coach Hatch was at the very top of our list and we could not be happier as an organization to have someone with his energy, passion, and experience leading our team," said Bells general manager Justin Stottlemyre. "It was extremely important to us that we find someone who not only represents what the Bells are all about as a local organization, but also someone who represents the wonderful Bellingham community that we call home."

The 60-year-old Hatch has spent over half of his life coaching at Sehome High School where he first started as an assistant in 1973 before taking over the program in 1980. He won his first state title in 1983, the same year he was named Bellingham Sports Person of the Year. In 1993 Hatch was inducted into the Washington State Baseball Coaches Hall of Fame. He recently led the program to back-to-back state championships in 2007 and 2008, and was named the Northwest Conference coach of the year for a second time in 2010.

"Being a part of this organization is truly something special for me as a coach," said Hatch. "It's a new challenge that I'm excited to take on and I can't wait to see where we can take this team both on and off the field. Eddie and Justin have a great vision for this organization and I look forward to being a part of this team as it reaches new heights. "

In addition to his well-documented coaching career at Sehome, Hatch served as the head coach of the Bellingham American Legion first from 1982-83 and then again from 1991-93. He is also a two-time gold media winner with USA Baseball. The first gold medal came while Hatch was serving as the pitching coordinator of the USA Baseball 16u National Team at the Pan American Baseball Championship in 2006; he won he second gold medal as the head coach of the USA Baseball 16u National Team at the World Championship in 2007.

As a player, Hatch suited up for Bellingham High School in 1966 before finishing his high school career at Sehome (1967-68). In his senior season he was named to the all-state team as a pitcher and first baseman. He then attended Brigham Young University where he was a member of the school's baseball program, helping the team reach the 1971 College World Series in Omaha, Neb., where they finished fifth.

The 2011 season may mark the first for Hatch as the head coach of the Bells, but putting on a Bellingham Bells uniform will just bring back old memories; Hatch played for the Bells from 1969 to 1976 when the club was a semi-pro team.

Coach Clem also has ties to the Bells as his youngest son Jacob, currently a senior at the University of Washington, played in 36 games for the Bells in 2007 and his oldest son, Zach, suited up for the Bells in 2003 and 2004.

As a coach, Clem also brings a lengthy resume to the table. Clem spent 28 seasons at the helm of the Burlington-Edison High School baseball team where he appeared in 15 state tournaments. He was inducted into the Washington State Coaches Association Hall of Fame in 1993 and during his last season as the head coach he was named the Washington State baseball coach of the year and the National High School Baseball Coaches Association coach of the year for Washington State. He finished his high school coaching career ranked ninth all-time in wins among Washington State baseball coaches and saw nine of his players get drafted by Major League Baseball teams.

Clem also spent time as a coach at various levels of the American Legion between 1982 and 2005. With the legion program, Clem made 14 state tournament appearances and guided his team to state championships in 1991, 1994 and 2005.

He earned his associates degree from Peninsula College in 1973 after pitching on the baseball team for two seasons. He went on to play at Central Washington University where he earned his bachelors degree in 1976 and later earned his masters degree in 1993.

Calkins, who runs the Northwest Baseball Institute in Burlington, Wash., is the final piece of the 2011 coaching staff. Calkins played baseball at the University of Rhode Island where he earned his bachelors degree in 1977 before he started a career in investment banking. After retiring in 1995, Calkins got more involved in baseball. He started working with the Sedro-Woolley Junior Legion team in 1997 before joining Clem as an assistant at Burlington-Edison High School and as an assistant for the Burlington American Legion program in 2000; positions he held until 2008.

"The three of these guys are not only terrific coaches and mentors, they are also caring and compassionate members of their communities and great friends," said Stottlemyre. "We knew these were the right guys to lead this team the very first time we met with them.

"These three coaches are absolutely committed to putting the best team possible on the field. They also want to work together with the front office and ownership to help grow attendance, sponsorships, partnerships, and a greater sense of community around this team in both Whatcom and Skagit counties."

The new coaching staff will first take to the diamond as the Bells open their 13th season on June 3 at Joe Martin Field against the Kelowna Falcons. Individuals and companies with inquiries about season tickets, corporate sponsorship opportunities, or any other matter related to the ballclub, are encouraged to contact the Bellingham Bells offices at (360) 527-1030, or via e-mail at [email protected]

About the Bellingham Bells
The Bellingham Bells are a professionally operated collegiate summer baseball team in the West Coast League striving to provide their fans, sponsors, and partners with the very best in competitive baseball and affordable entertainment in a family-friendly atmosphere. The team is comprised of college baseball players from across the country. In recent years, the Bells have helped produce a number of major leaguers including Jeff Francis of the 2007 National League Champion Colorado Rockies and Whatcom County natives Ty Taubenheim and Kevin Richardson.