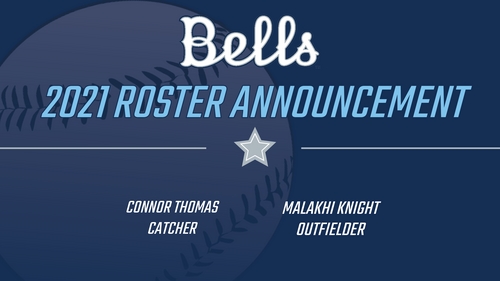 02/22/2021 8:23 AM
The Bells are excited to welcome catcher Connor Thomas from Skagit Valley College and outfielder Malakhi Knight, UCLA commit, to the 2021 roster.
Thomas graduated from Viewmont High School in Farmington, Utah last year and will see his first collegiate action this spring as a freshman.
"Connor is a high character individual that possesses outstanding leadership qualities," Bells' head coach Adam Geaslen said. "He shows great catch and throw ability behind the plate with some power potential offensively. We are looking forward to having Connor represent Skagit Valley College this summer in Bellingham."
He stands at 5-foot-11, 185-pounds and has the potential to contribute behind the dish with a fast exchange and also on offense with a strong swing.
Knight will graduate from Marysville-Getchell High School in Marysville, Wash. in June 2021.
"Malakhi is another outstanding player and individual coming to us from the UCLA program," Geaslen said. "His elite level athleticism and exceptional tools make him one of the highest ranked recruits in the nation. A true center fielder that can really go and get it. Malakhi flashes raw power potential within an approach that incorporates the entire field. He truly is a must watch talent and we couldn't be more excited that he is joining the Bells this summer."
Knight, who also played basketball in high school, has an impressive combination of speed and strength which supplement his outfield ability and offensive skill.
Both Thomas and Knight will contribute to the Bells defensive chemistry and add power to the Bells' lineup this summer.