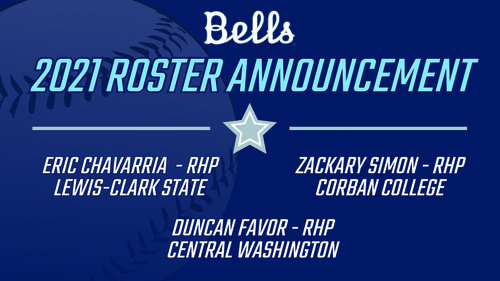 02/08/2021 9:28 AM
BELLINGHAM, Wash. — The Bells are excited to welcome right-handed pitcher Eric Chavarria from Lewis-Clark State College, RHP Zack Simon from Corban University and RHP Duncan Favor from Central Washington University.
"It's been a while since we have had players from Lewis-Clark State College, Corban University, and Central Washington University on our roster," Bells pitching coach/recruiting coordinator Jim Clem said. "A couple were on our roster last year, but of course that never happened because of COVID. We are very excited to have these colleges represented this season!"
Chavarria is a redshirt junior who started four games for the Warriors in the condensed 2020 season. He pitched one complete game which included 16 strikeouts and gave up one run.
"Eric Chavarria has proven to be a very good pitcher, he is battle tested and is a top performer," Clem said. "He's known for having great feel for 3 pitches and can use them at any time. He's an exceptional athlete! Eric also played shortstop before going to LCSC, he's a tough competitor, and a great guy!"
Originally from Long Beach, Calif., Chavarria spent two years at Cypress Community College before Lewis-Clark State and was a four-year letterman in high school.
Simon is a sophomore who also appeared in four contests in 2020. In 15 1/3 innings pitched he notched 15 strikeouts. He finished with a 3.17 ERA in 59 2/3 innings his freshman year at Corban.
Simon graduated from Centennial High School in Las Vegas, Nev., and has two-way talent. He was an All-Region outfielder in high school and scored three runs in 27 at-bats last season.
"Zack Simon is another great addition to our staff," Clem said. "He's known for having exceptional command, he's a strike-thrower, with a good fastball, a hammer curveball, and a change-up. Zack has good energy, loves to play, and will be great in our clubhouse. He brings experience in pressure situations, so can be used in most any role. We are really excited about Zack!"
Favor graduated from Eastmont High School in Wenatchee, Wash., in 2018 and is a redshirt sophomore at Central Washington. He ended with a 4.31 ERA in high school in 39 innings pitched.
"Duncan Favor is an exciting player to add to our staff," Clem said. "He is a high energy guy, who is typically used at the back end of games. Duncan has a live fastball and a hard breaking ball. He has a change-up as well. Along with his good stuff, his positive energy and work ethic will fit well on our team. Can't wait to have Duncan join the Bells!"
All three pitchers will provide a unique and effective arsenal to the Bells' rotation this summer.
About the Bellingham Bells:
The Bellingham Bells are a summer, wood bat, collegiate baseball team that plays in the West Coast League (www.westcoastleague.com). The Bells play their home games at Joe Martin Field in Bellingham and their field staff includes Adam Geaslen (Head Coach), Jim Clem (Assistant Coach/Pitching), David Higuera (Assistant Coach) and Haydan Hastings (Assistant Coach). Former Bells players who have spent time in Major League Baseball include: Jeff Francis (Cincinnati Reds), Kevin Richardson (Texas Rangers), Ty Taubenheim (Toronto Blue Jays) and Marc Rzepczynski (Seattle Mariners).
Contact:
Bellingham Bells (www.bellinghambells.com)
Stephanie Morrell
Email: [email protected]