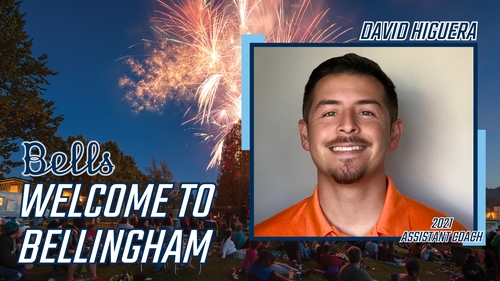 02/01/2021 10:55 AM
Bellingham Bells Hire New Assistant Coach
The Bellingham Bells are excited to announce the hiring of a new assistant coach. David Higuera will join the Bells coaching staff for the 2021 season, joining Head Coach Adam Geaslen, Pitching Coach/Recruiting Coordinator Jim Clem and assistant coach Haydan Hastings.
"I am extremely thrilled to join a great staff and front office of the Bellingham Bells. I'm ecstatic to begin my relationship with this great organization and city of Bellingham," Higuera said. "I have heard nothing but great things from everyone that has been associated with the Bells."
Higuera is currently an assistant coach at the California Institute of Technology. At Cal Tech, he works with infielders and outfielders, coaches third base and assists with recruiting.
Higuera also brings valuable summer baseball experience, having spent seasons with the Arroyo Seco Saints in the California Collegiate League and the Macon Bacon in the Coast Plains League.
"We are thrilled to be adding David to our Bells family," Bells general manager Stephanie Morrell said. "Throughout the hiring process it was evident that not only is he an up-and-coming baseball coach who can really help our players, he is first and foremost a high character individual who fits in with the Bells philosophy of doing things the right way on and off the field. We believe David is a perfect fit for the Bells."
With the Bells, Higuera will work closely with Head Coach Adam Geaslen on offensive and defensive strategies, work with outfielders & infielders and help with baseball analytics.
"I am eager to begin working with the players, staff, and front office this summer and I look forward to bringing my energy and knowledge daily to grow with the players this summer. It cannot come here fast enough."
About the Bellingham Bells:
The Bellingham Bells are a summer, wood bat, collegiate baseball team that plays in the West Coast League (
www.westcoastleague.com
). The Bells play their home games at Joe Martin Field in Bellingham and their field staff includes Adam Geaslen (Head Coach), Jim Clem (Assistant Coach/Pitching), David Higuera (Assistant Coach) and Haydan Hastings (Assistant Coach).
Stephanie Morrell
Phone: (360) 746-0409