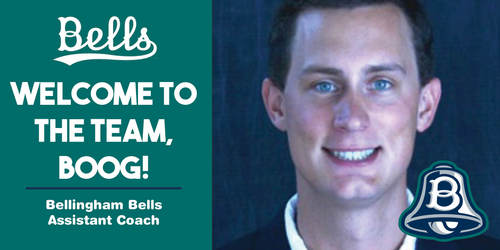 12/27/2019 9:39 AM
The Bellingham Bells are excited to announce the hiring of a new assistant coach. James "Boog" Leach will round out the Bells staff for the 2020 season, joining Head Coach Adam Geaslen, Pitching Coach/Recruiting Coordinator Jim Clem and Assistant Coach Jake Whisler.
Leach played collegiately at Linn-Benton Community College and Western Oregon University. At Western Oregon University, Leach had a very successful career as a catcher, helping WOU earn three GNAC titles.
"I am very thankful to be given the opportunity to join the Bells coaching staff for the 2020 season," Leach said. "I am looking forward to working with the Bells organization, coaching staff and players. I am excited to become a part of the Bellingham community and look forward to an outstanding summer of baseball with the Bells. GO BELLS!"
After completing his career with the Wolves, Leach stayed on with the WOU coaching staff, serving as a graduate assistant for the 2018 & 2019 seasons. Primary roles included working with catchers and outfielders, assisting with recruiting and developing practice plans.
After a move to the Portland area, Leach is working with high school and American Legion baseball and seeking full-time employment in baseball.
"We are thrilled to be adding Boog to the coaching staff," Bells GM Stephanie Morrell said. "Coach Geaslen, Coach Clem, Coach Whisler and I were all in total agreement that he was the right guy to join our team. He has great baseball knowledge and experience, but beyond that, he has the desire to help develop college players, and do so in the right way. He will be a great addition to our staff."