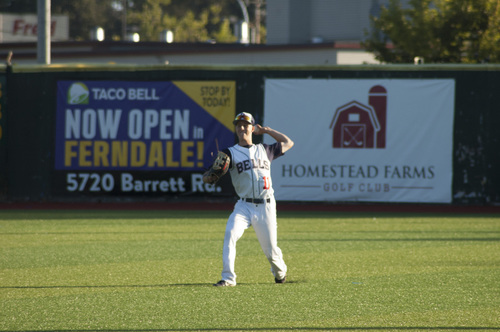 08/03/2019 9:37 PM
In a game that lasted only 2 hours and 11 minutes, Bellingham dropped game two to Victoria by a score of 5-1.
Both Sides Pitch Well
Both starters put in strong nights on the mound, as Bellingham's Nick Proctor went 7 innings, allowing just two earned runs off of two hits and two walks, while striking out four. For Victoria, Branson Wilson put in a stellar performance with a complete game, as he only allowed one run off of four hits, while striking out six. The two pitchers combined to allow just four hits through the first seven innings, making for a quickly-played evening of baseball.
Offensive Hangover
After knocking in 12 runs off of 17 hits in last night's contest, Bellingham could only muster four hits in Game 2, and three of those came in the eighth inning. Austin Kretzschmar reached safely in the bottom of the 3rd on a single, and Jordan Vujovich, Derek Marshall, Jr., and Christian Dicochea loaded the bases in the bottom of the 8th in an abbreviated comeback attempt. Bellingham has been victim to offensive consistency this season, and the offensive disconnect in Games 1 and 2 proved to be true. The Bells will need to ride an offensive hot streak into the end of the season as they look to compete for the second playoff spot.
Bittersweet
With a win tonight, the Wenatchee Applesox are now 2.5 games ahead of the Bells in the WCL North overall season standings, and are tied with Victoria in the second-half standings. Sitting at 5th in the second-half standings, Bellingham's playoff hopes lay in their overall record, while needing Victoria be the second-half winners. Although tonight's loss to the Harbourcats did not help Bellingham's overall record, it prevented Wenatchee from taking the division lead. With two series remaining after Victoria, the Bells will need a significant winning record to go along with a losing streak from the red-hot Applesox.
Looking Forward
The series against Victoria will end Sunday afternoon, with first pitch scheduled for 1:05 pm. Bellingham will then have one day off before hosting the WCL-South leading Corvallis Knights in a three-game series, which will be the last home series of the season.