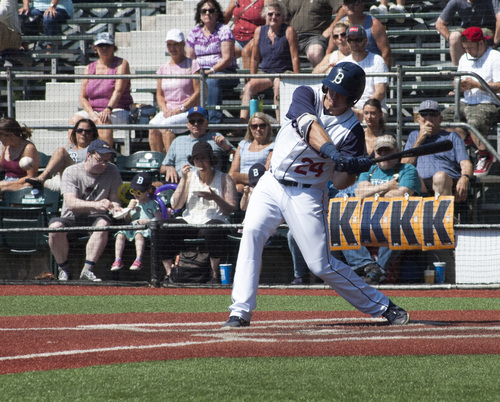 07/29/2019 10:09 PM
In a game that looked over early, Bellingham's spirited 9th-inning comeback attempt in a 6-4 loss to the Port Angeles Lefties on Monday, July 29th, at Joe Martin Field.
Rally Caps
Trailing 6-1 headed into the bottom of the 9th, Bellingham put together five hits and scored three runs to make it close. With two runners on, and the tying run at the plate, a two-out groundball ultimately ended the game. After the first batter of the inning recorded an out, Derek Marshall, Jr. and Cole Hinkleman recorded back-to-back base hits, and Jake Gentry immediately followed them up with an RBI single. Jack Machtolf added a 2-RBI single to the inning, but the final two batters could not plate a run, and the effort ended just short. The Bells had a total of ten hits on the night, and put runners on off of one Port Angeles error, and two runners were hit by pitch.
So Close
The Bells left eight runners on base in the ballgame, and two were in the sixth inning. After Austin Kretzschmar and Guthrie Morrison led off the inning with singles, Troy Viola hit a near-home run that hit right at the top of the right field wall. The high fly ball only counted as a single, and with the bases loaded Bellingham could only plate one run. Every starter except one recorded a hit for Bellingham, and Guthrie Morrison and Cole Hinkleman each had two.
It's About How You Finish
After allowing nine hits and six runs in the first three innings of play, the Bells bullpen only allowed one hit for the remainder of the contest. Matt Henckel (2.0 IP, 6 H, 4 ER, 3 BB, 1 K) started and took credit for the loss. Will Armbruester (5.0 IP, 4 H, 2 ER, 1 BB, 5 K) took over in a bases-loaded third inning, but cruised from that point on. Brandon Argomaniz (2.0 IP, 1 H, 0 ER, 0 BB, 0 K) added two quality innings of relief. With strong late-game pitching and an offensive surge, Bellingham almost came away with a comeback and a series win. As it results, the Bells are now 3-10 in WCL North Second Half play.
Looking Forward
Bellingham departs on a three-game road trip beginning tomorrow, July 30th, in Ridgeway to play the Raptors. They will be back home on Friday, August 2nd, for an important three-game series against the WCL North-leading Victoria Harbourcats. The final six home games of the year will be on August 2-4 against Victoria, and August 6-8 against the Corvallis Knights.