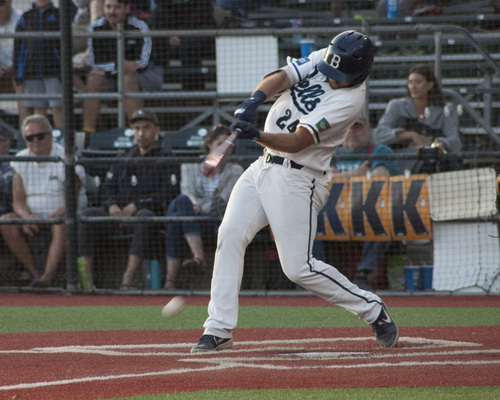 07/22/2019 10:30 AM
Bellingham dropped the final of the three-game series to the Wenatchee Applesox on Sunday, July 21st, at Joe Martin Field, by a score of 5-2.
Couldn't Capitalize
The Bells left eleven runners on base in the game, and key hits eluded them in their comeback effort. The Bells left two runners on in the 3rd, 6th, 7th and 8th innings. The game was tied at two before Wentachee jumped ahead in the top of the 7th, but a key RBI late in the game did not materialize for Bellingham. Danny Martin and Jack Machtolf led the way with two hits each, and Collin Burns had the only RBI for the team, as the other run was scored on an error.
Swing and a Miss
Bells starter CJ Varela (5.0 IP, 3 H, 3 BB, 2 ER) struck out five batters, as he used his changeup well to fool the Applesox offense. He exited the game with the Bells trailing by two, and turned the mound over to Cody Jensen, the sophomore from Stanford University. Jensen (3.2 IP, 5 H, 1 BB, 3 ER, 2 K) kept the game close until two outs in the bottom of the ninth, but Wenatchee infielder Ryan Altenberger put the game away with a 2-run home run. John Kelly (0.1 IP, 0 H, 0 BB, 0 ER) recorded the final out for the Bells, as he only needed one pitch to get the job done.
Looking Forward
The Bells are off until Saturday, July 27th, as the WCL enjoys All Star festivities in Bend, Oregon. Tomorrow night, Monday, July 22nd, is the Home Run Derby, where Bells slugger Troy Viola will be participating and competing for the crown. The All-Star Game, featuring five Bells, will be Tuesday, July 23rd, at Vince Genna Stadium in Bend, Oregon. First pitch is set for 6:35, and the Derby is set to begin at 6:30. Bellingham will be back at Joe Martin Field on Saturday, July 27th, to face the Port Angeles Lefties. The Bells will look for a strong final four weeks of the season as they aim to secure their place in the 2019 WCL playoffs.