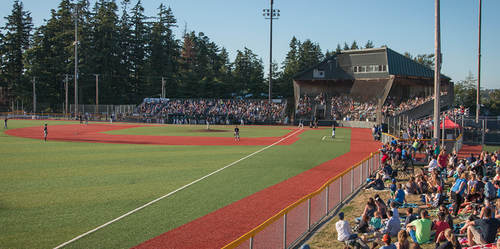 07/20/2019 9:28 AM
The Bellingham Bells returned to Joe Martin Field on Friday, July 19th, and captured a victory against the Wenatchee Applesox by a score of 7-5.
All-Star Troy Viola Leads the Way
2019 WCL All-Star Troy Viola turned the tables for the Bells in the bottom of the eighth inning. With Guthrie Morrison on first and the Bells trailing 5-3, The power-hitting infielder sent a ball 378 ft and 101 MPH over the left field wall for a game-tying home run. Later in the inning, Jordan Vujovich put the Bells on top with a sac fly that scored Cole Hinkleman, and Collin Burns scored Danny Martin to put the Bells up for good. Viola, one of the Bells' five WCL All-Stars, has been an offensive machine this summer for Bellingham. Batting .328, he is second in the WCL with 27 RBI, and leads the pack with eight home runs. The long-ball machine will also be representing Bellingham in the 2019 WCL Home Run Derby, which will take place during All Star Game festivities in Bend, Oregon
Prolific Proctor
Bells starter Nick Proctor put in a terrific start for Bellingham in what ultimately ended up in a no-decision. Entering the 7th inning, he had only allowed two hits and no earned runs, while striking out seven. He did not record an out in the inning, and a bases-loaded jam saw him replaced by Danny Garcia, who allowed five runs to cross the plate. Despite the three earned runs going on Proctor's record, he has still dominated WCL batters with a 1.81 ERA, and a 4-1 record. With the Bells up by two in the 9th inning, John Kelly locked down the save for his first of the year.
Looking Forward
After a tough road trip, Bellingham currently sits at 2-7 in second half play, and 18-18 on the year. To secure a spot in the 2019 WCL playoffs, the Bells will either need to win the division in the second half (5 GB), or finish with the best overall record if the Victoria Harbourcats win the division once again. Bellingham currently is .5 games behind Wenatchee in the latter standings, as the Applesox sit at 19-18. The final two games of this series could flip the script in terms of which team sits in the best position to make the playoffs. Game two of the series will be tomorrow, Saturday, July 20th, at Joe Martin Field. First pitch is set for 6:35 pm.