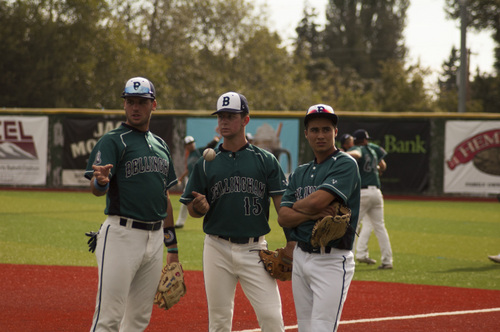 07/09/2019 10:31 PM
Bellingham dropped game two to Walla Walla, 11-7, in a game that lasted 3 hours and 31 minutes on Tuesday, July 9th, at Joe Martin Field.
Back and Forth Affair
After loading the bases to lead off the game, Bellingham started hot, scoring four runs and forcing Walla Walla starter Ben Johnson to be pulled after pitching just 0.2 innings (0.2 IP, 4 H, 4 ER, 2 BB). From then on out, one or both teams scored in every inning to push the final score to include 18 total runs scored. Bellingham led by one going into the eighth, but a two-out defensive collapse allowed three runs to score in the top of the eighth, and the Sweets put it out of reach with two more runs scored in the top of the ninth. The game featured four ties and five lead changes, as well as ten pitchers.
Lots of Offense
Bellingham out-hit Walla Walla 14-7, but the Sweets found the majority of their baserunners by walks, as they drew nine on the night. Collin Burns led the way for Bellingham with a 3-6, 2 RBI effort, and Nick DeNichola also added three hits of his own. Cole Hinkleman and Guthrie Morrison each had two hits, and Troy Viola, Jack Machtolf, Austin Kretzschmar and Danny Martin also joined the hit parade. The offense was effective, but left plenty of opportunity on the field, as 12 runners were left stranded on the bases in the game. A notable stat from Walla Walla was a 405-ft moonshot home run from Chazz Martinez in the top of the second inning – the longest home run hit at Joe Martin Field in the Trackman era.
Looking Forward
Bellingham is now 1-2 on the second part of the season, and will look to take the series from the Sweets tomorrow, Wednesday, June 10th, with first pitch at 6:35. Bellingham currently sits at fourth in the WCL North Division, but the top four teams are separated by just 1 game in the early stage of the second half. Walla Walla, after starting the season on a 10-game win streak, finished second in the WCL South Division to the Corvallis Knights – a team that ended the first half on an outstanding 14-game winning streak. Both Bellingham and Walla Walla are looking to win the division in the second half to punch their tickets to the 2019 WCL playoffs.