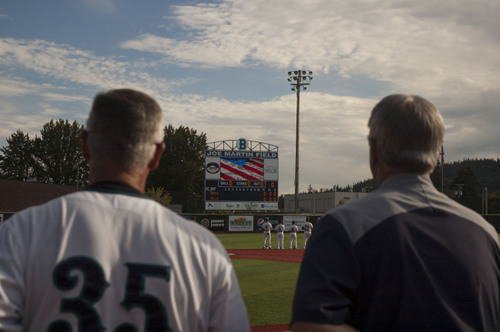 07/08/2019 9:24 PM
Bellingham is now 1-0 to start the second half of the season after a 4-1 victory over the Walla Walla Sweets at Joe Martin Field on Monday.
Dicochea Delivers
Leading the way offensively for the Bells was Christian Dicochea, the University of Washington freshman from Redondo Beach, California. The DH went 2-4 with 3 RBI to lead the way for Bellingham, including a go-ahead RBI double in the bottom of the third inning, and a 2 RBI single in the seventh to put the game out of reach. The versatile 2019 graduate has now played in five games for the Bells this summer, and is slashing .267/.294/.333, with 4 RBI and two stolen bases. He is four for his last eight (.500), and will look to start off strong in the second half of the 2019 WCL season.
Pitching Too Sweet
The Bells' pitching staff had their way with the Sweets, allowing just one run to score off of four hits. Starter Matthew Henckel (4.2 IP, 3 H, 1 ER, 2 K) earned the win for his second of the year. The Gonzaga Sophomore now sports a 2.17 ERA on the year in 20.2 innings of work. Cody Jensen (3.1 IP, 1 H, 0 ER, 2 K) contributed three lockdown innings in relief, and Danny Garcia (1.0 IP, 0 H, 0 ER, 1 K) shut it down in the ninth for his first save of the year. The staff has been hot-and cold as of late, as they both shut out Victoria in an 8-0 victory on Saturday, June 6, and were blown out by the Pippins, 13-4, last Thursday in Yakima. The team is second in the WCL with a 3.64 ERA, and will look for more consistency on the mound as the enter the second-half battle for a playoff spot.
Playoff Picture
The Bells just barely missed out on securing a playoff spot this past weekend to the Victoria HarbourCats. After being swept by Yakima Valley, the Bells entered the final three-game series trailing Victoria by two games. Bellingham won games one and two, but fell in the decisive third game to finish the first half at 17-10 to Victoria's 18-9. Victoria, by finishing with the best record in the WCL North Division in the first half of the season, has now secured a playoff spot. Bellingham will need to finish atop the WCL North in the second half of the season to reach the playoffs once again. The last WCL Championship for the Bells was in 2014.
Looking Forward
The Bells will continue the three-game series against Walla Walla tomorrow, Tuesday, June 9th, with first pitch at 6:35 pm at Joe Martin Field. The homestand will be just one series, as the team will be back on the road until next Friday, June 19th, to face the Wenatchee Applesox.