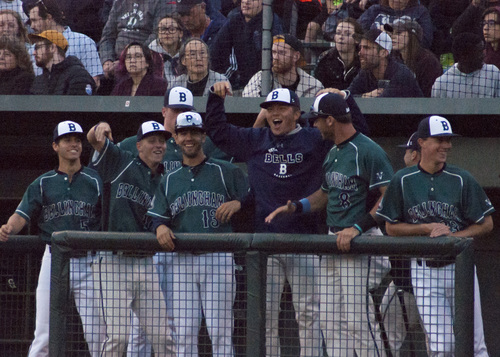 06/29/2019 9:16 PM
The Bellingham Bells bested the Portland Pickles, 8-3, in game two of the series on Saturday, June 29th, at Joe Martin Field, to tie up the series at one game apiece.
Strong Day at the Plate
Bellingham collected 11 hits and drew nine walks as they lead wire-to-wire against the Pickles. Leading the way offensively was tonight's Player of the Game, Jack Machtolf, who went 2-5 at the plate with 3 RBI, with a double and a triple. On the season, the outfielder from Gonzaga now has 9 RBI and is hitting .333. Troy Viola also added two RBI, and Derek Marshall Jr. and Collin Burns each had one. Guthrie Morrison and Austin Kretzchmar also had two hits for the red-hot Bells offense.
Pitchers Bounce Back
After struggling on the mound in game one, starter Nick Proctor led the way in a strong evening of work for the Bellingham pitching staff. Proctor went 5 innings, and allowed four hits, one walk, and one earned run, while striking out one, in his second win of the season. A sophomore from Cal Berkely, Proctor now boasts a sizzling 1.72 ERA in his 15.2 innings of work, which is good for third in the WCL. Jimmy Chatfield (2.0 IP, 1 H, 0 ER, 3 K) and Cody Jensen (2.0 IP, 1 H, 2 R, 1 ER, 1 K) shut down the game in relief. As a team, coach Jim Clem's staff sits second in the WCL with a 3.61 ERA and 185 strikeouts.
Morrison Stays Hot
In his second summer with the Bells, Gonzaga outfielder Guthrie Morrison is red-hot at the plate. He sits at third in the WCL with a .375 batting average and 30 hits. He is slashing .375/.427/.475, and is currently on a four-game hitting streak, with three of those being two-hit efforts. Before this streak, he was on a nine-game hitting streak, and he has recorded a hit in thirteen of his last fourteen games. A stalwart defensively as well, Morrison has maintained a perfect 1.000 fielding percentage from center field, and also has two outfield assists. The veteran Bell will look to continue his strong start to the year as he helps lead the second-place Bells.
Looking Forward
Due to a win tonight by the Victoria HarbourCats (15-7), Bellingham (13-7) still sits in second place, just one game back. The Bells will close out the series against the Pickles tomorrow in a day game, with first pitch at 1:05 pm at Joe Martin Field. The team then hits the road for a six-game road trip, with three games in Yakima against the Pippins, and then a showdown against the first-place HarbourCats in Victoria. The Bells return home for a three game series on July 8th against the Walla Walla Sweets.