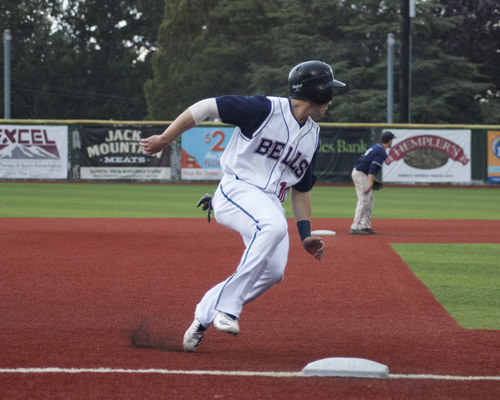 06/29/2019 9:57 AM
The Bellingham Bells dropped the first game of their weekend series against the Portland Pickles on Friday, June 28th, at Joe Martin Field by a score of 8-3.
Defense Falters
Bellingham, who came into the game with the second-best team ERA in the WCL at 3.75, allowed six earned runs and two unearned. Of the five pitchers that entered the game for the Bells, four allowed a run. Bryce Moyle (2.1 IP, 3 H, 3 R, 2 ER, 3 K) started the game, and Danny Garcia (3.2 IP, 2 H, 1 ER, 3 K) was tagged with his first loss of the season (1-1). Matt Geoffrion (1.0 IP, 0 H, 2 R, 1 ER, 1 K), Cole Tucker (0.2 IP, 1 H, 2 ER, 4 BB, 2 K), and Will Dennis (1.1 IP, 0 H, 0 ER, 3 K) also took the mound. The Bells were also hurt by three defensive errors.
Offensive Disconnect
The Bells had trouble stringing hits together offensively, and ended up leaving eight runners on base. Austin Kretzschmar hit his first home run as a Bell in the form of a two run shot in the bottom of the fourth to tie the game at three that traveled 365 feet, but the team couldn't muster a run past that point. Jack Machtolf and Danny Martin each went 2-4, and Collin Burns, Guthrie Morrison, Troy Viola each added a hit of their own. As a team, the Bells are batting .269 on the year, but couldn't find the key hits to best the Pickles.
League Leaders
Individually, the Bells have a number of players near the top of the WCL in many of the major statistical categories. Offensively, Troy Viola leads in home runs (4), Jordan Vujovich is second in RBI (17), and Guthrie Morrison is fourth in batting average (.373). Morrison also sits at second with 20 runs scored. Even pitcher Will Armbruester is an offensive league leader with his 5.000 OPS (On base percentage plus slugging percentage), thanks to his one league plate appearance in which he hit a home run.
Looking Forward
With the loss, the Bells fall to 12-7 in league play, and sit one game out of first place in the WCL North division behind the 14-7 Victoria Harborcats. Bellingham will finish out the series against Portland with two more games this weekend, including a post-game fireworks night on Saturday, June 29th. After that, the Bells will travel to Yakima to face the 8-13 Pippins.