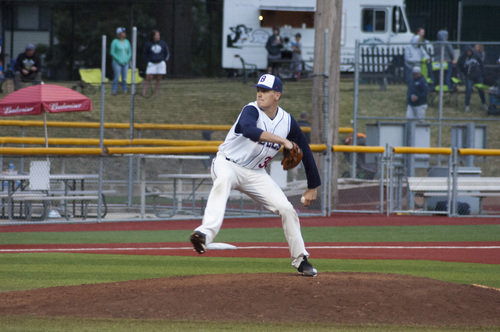 06/26/2019 10:13 PM
The Bellingham Bells beat the 18U Seattle City team 15-0 on Wednesday, June 26th at Joe Martin Field in Bellingham.
Walking All Over Them
Bellingham scored 15 runs off of just eight hits – while drawing thirteen walks, three hit-by-pitches, and adding three more baserunners off of errors, for a total of nineteen baserunners reaching off of something other than a hit. While the WCL statistics are not available, the comparison to the MLB all-time statistics are impressive. The most walks drawn by a team in an MLB game was 19 by the 1887 Louisville Colonels, and the most runs off of the fewest hits was the Oakland Athletics, who scored 8 runs off of 2 hits in 1994. The Bell's 15 runs off of eight hits and 13 drawn walks would rank near the top in both MLB records' categories.
Zeroes on the Board
The Bells pitching staff combined for no runs and just four hits allowed while striking out nine Seattle hitters. John Kelly (3.0 IP, 4 H, 0 BB, 2 K) started and earned the win (1-0), and Matt Henckel pitched two innings, allowing just one walk with one strikeout. Diego Barrera pitched one inning with one strikeout, Logan Hatley pitched one with two, Matt Geoffrion pitched one with two, and Cody Jensen closed the game out with one. Bellingham sits at second in the WCL with a 3.62 team ERA, and leads the league with 168 strikeouts.
Hot Start
In his first two games with the Bells, University of Washington commit Nick DeNicola has started hot. After starting 2-5 last night against Highline, he went 2-4 with an RBI against Seattle, to start the season slashing .444/.545/.556. A 2019 graduate from Redondo Union High School in Redondo, California, DeNicola batted an impressive .430 in his varsity career, with a .449 batting average. He also batted in 37 RBI and scored 23 runs. The versatile fielder is already off to a strong start in his first post-high school action.
Looking Forward
The Bells (14-6, 12-6 in league play) will be hosting the Portland Pickles (8-12) in a three-game weekend series beginning Friday, June 28th. The Pickles are 4-6 in their last ten games, and rank second to last in the WCL with 63 team RBI. The Bells sit second in the WCL with 102 RBI. The Pickles also sport a 4.71 team ERA, 1.53 team WHIP, and a .271 opponent's batting average.