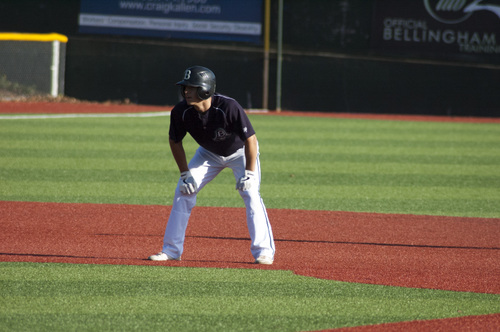 06/14/2019 9:05 PM
The Bellingham Bells defeated the first-place Yakima Valley Pippins on Friday night at Joe Martin Field by a score of 7-6.
Déjà Vu
After losing the previous night to the Cowlitz Black Bears in a game that featured five lead changes, Bellingham walked the tightrope again but came out victorious in a game that saw two ties and four lead changes. Starter Matthew Heckel (4.0 IP, 1 H, 0 ER, 1 K) allowed a run in the top of the first inning off of an error, but the Bells jumped ahead in the bottom of the fourth on a pair of errors that scored Jake Terao and Jordan Vujovich. Marcos Cuenca (0.2 IP, 1 H, 1 ER, 3 BB, 2 K) walked the bases loaded and then walked in a run in the top of the fifth, but Bellingham grew their lead as Danny Martin scored on a wild pitch and Terao scored his second run off of a Guthrie Morrison double. The Bells had trouble defensively in the top of the seventh, as the Pippins scored four runs off of four Bellingham errors, but Vujovich put the Bells ahead for good with a 2 RBI double in the bottom of the inning. Jimmy Chatfield (1-0) earned the win out of the bullpen by turning in a strong performance (2.2 IP, 1 H, 0 R, 5 K) – while throwing a blistering 93.7 MPH fastball.
Player of the Game
Player of the Game honors for tonight go to the outfielder from Oklahoma, Jordan Vujovich. He put in a 2-4 effort with 3 RBI and a run scored, as well as his third double on the year. Slashing .278/.278/.444, he currently leads not only the Bells, but the entire WCL with 9 RBI. The Redshirt Sophomore put in a strong year at Oklahoma, slashing .246/.448/.341 with 15 RBI, 23 runs scored, and 1 HR, along with 8 extra-base hits.
Looking Around the WCL
Bellingham (6-4) now trails Yakima Valley (6-3) by just .5 games in the WCL North standings. With this loss, the Pippins have dropped their last two games in league play. Although its early in the season, a series win for either team could have major late-season implications. Yakima Valley is tied with the Ridgefield Raptors for the second-best record in the league, and the Bells sit just a half game back of both teams. The Walla Walla Sweets sit comfortably in first, with a perfect 7-0 record to start the 2019 season.