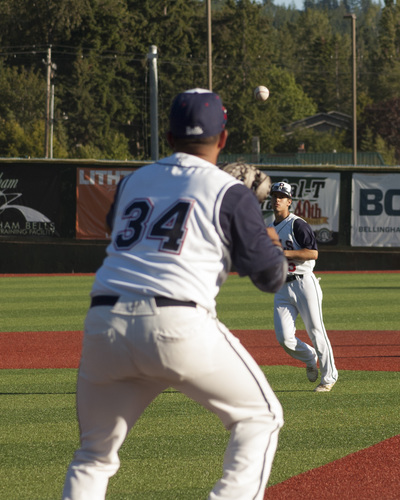 06/12/2019 8:48 PM
The Bellingham Bells were victorious in decisive fashion on Wednesday night, as they led wire-to-wire in a 10-1 victory over the Cowlitz Black Bears.
Strong Pitching Leads the Way
Will Armbruester threw a fastball for the first pitch of the night at a scorching 91.3 MPH, and the Bells pitching staff was on fire from there on out. Led by the winning pitcher Armbruester (4.2 IP, 4 H, 1 ER, 2 K), the Bells staff held the Black Bears to just seven baserunners while striking out eight. There was only one crack in the otherwise pristine night, as Armbruester allowed three baserunners and an earned run in the Top of the 5th, but Tate Dearing (2.1 IP, 0 H, 0 ER, 3 K) entered the game and shut down the Cowlitz threat. Justin Tucker (1.0 IP, 0 H, 0 ER, 2 K) and Barry Caine (1.0 IP, 1 H, 0 ER, 1 K) also put in solid efforts on the mound. After only allowing one earned run in the contest, Bellingham's team ERA is down to 4.06, and the team WHIP sits at 1.37.
Hits Keep Coming
After connecting on 16 hits and scoring 12 runs last night, the Bellingham's bats stayed hot with 13 hits tonight. The Bells hit for the less-prestigious team cycle, as multiple hitters had singles, Jack Machtolf hit a double, Collin Burns hit a triple, and Derek Marshall Jr. hit his first home run of the season - a 340 ft shot over the right-field wall. After batting .400 as a team last night, Bellingham batted .351 (13-37) tonight. Burns and Marshall Jr. each had 2 RBI, and Nick Sokol, Guthrie Morrison, Jordan Vujovich, Sam Swenson, and Danny Martin each had one.
Burn(s)-ing it Up
A sophomore at Tulane University in the Big Easy, Collin Burns has made it look big-time easy at the plate this year. After starting the season hitting at a slash of .143/.333/.143, two big games against the Black Bears have seen those numbers rise to .320/.414/.560. After going 3-4 last night with a double and an RBI, he followed up tonight with a 2-5 performance with a triple and 2 RBI. He currently leads the team with 6 RBI, is tied for the lead with 1 home run, and sits at fourth with his .320 Batting Average.
Looking Forward
The Bells will conclude their series against the Cowlitz Black Bears tomorrow, June 13th, at Joe Martin Field, with first pitch at 6:35 pm. Following the series, Bellingham will be hosting the Yakima Valley Pippins for a battle at the top of the WCL North Division. With the win tonight, the Bells moved to 5-3, and the Yakima Valley Pippins sits at the top of the division at 6-1.