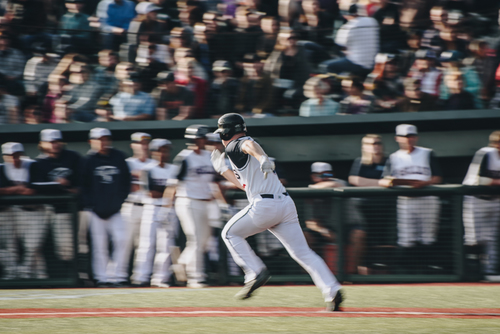 06/11/2019 10:18 PM
The Bells secured a 12-5 victory over the Cowlitz Black Bears on Tuesday, June 11th, in a game that saw 17 runs scored and 24 combined hits.
7th Inning Stretch-That-Lead
Bellingham trailed headed into the bottom of the seventh inning, but an 8-run offensive explosion put them ahead for good. The inning saw the Bells connect on six hits, and they were aided by three defensive errors by the Black Bears. Three different Cowlitz pitchers were used in the inning, as Sam Lauderdale (2 IP, 5 H, 3 K) was tagged for 3 ER, Jacob Rutherford (0 IP, 2 H) was responsible for 3 with only 1 being earned, and Zack Smith (1.1 IP, 2 H) allowed 1 earned run. Nick Miller (1-0, 3 IP, 1 H, 2 K) was the pitcher of record in the 7th, and earned his first win of the season.
Hits Galore
As a team, the Bells batted 16-40 (.400) with 12 RBI and 3 BB. Nick Sokol and Collin Burns each hit a double, and Jake Terao had two. Troy Viola and Jordan Vujovich each hit their first home run of the season, with Viola's being a 383 ft line-drive over the left field wall, and Vujovich blasting a 405 ft no-doubter to right. Sokol, Viola, Vujovich, Terao, and Guthrie Morrison each had 2 RBI, while Burns and Jack Machtolf each added one of their own. The team was even successful on the basepaths, as Morrison and Vujovich each had their first stolen base of the season.
Shutting it Down
After falling behind 5-3, relievers Nick Miller and Marcos Cuenca (1 IP, 0 H, 2 K) were nearly perfect on the mound for the final four innings. The duo only allowed one hit and one walk, and Cuenca shut down the game for good with a 1-2-3 9th inning. The pair of strong-throwing relievers each had their fastball working well, with Miller's topping out at 89.7 MPH, and Cuenca's hitting 90.2. Together, the duo boasts a 0.90 ERA with 7 K on the young season.
Looking Forward
After dropping two of three in Port Angeles, Bellingham will look to jump back to the top of the WCL North during this Joe Martin Field home stand, with two more games against Cowlitz, followed by three against the Yakima Valley Pippins. Currently, the Bells sit at 5-3, good for 3rd in the WCL North.