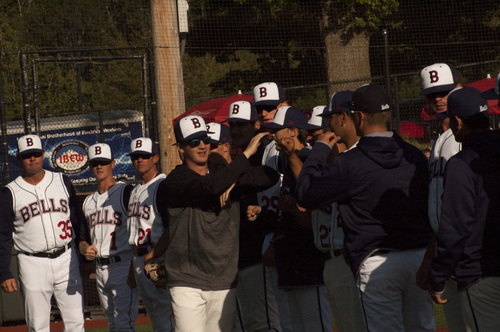 06/06/2019 8:57 PM
The Bells were victorious against the Kelowna Falcons, 3-1, on June 6th, 2019, at Joe Martin Stadium, to take two of the three games in the opening series of the season.
Quiet Bats, Fast Start
Despite only having three hits in the game, aggressive baserunning saw the Bells score all three of their runs in the bottom of the first inning. After Guthrie Morrison reached on a leadoff error and Collin Burns reached on a walk, Jordan Vujovich scored Morrison on a single for his first hit of the season. Burns later scored on a Derek Marshall RBI groundout, and Vujovich scored on a Logan Stevens RBI groundout. Those three runs proved all that the team needed, as the strong Bellingham bullpen shut down the Falcon's offense, only allowing one run.
Strong Pitching Leads the Way
Pitching coach Jim Clem has committed to getting all of his new pitchers work early in the season, and once again five pitchers saw action. Starter Matthew Henckel (1-0, 2 IP, 1 H, 2 K, 0 ER) secured his first win of the season, and Jimmy Chatfield (1 IP, 0 H, 1 K, 0 ER) grabbed the save in the first save opportunity of the young season. Justin Tucker (2 IP, 5 H, 1 ER, 1 K), Will Dennis (2 IP, 0 H, 0 ER, 1 K), and Eric Anderson (2 IP, 0 H, 0 ER, 3 K) also put in effective efforts. As a team, Bellingham leads the WCL with a 0.93 WHIP and a .160 opponent's batting average.
Morrison's Hot Start
In his second season with the Bells from Gonzaga University, LF Guthrie Morrison is off to a strong start to the 2019 season. Hitting in the leadoff position, he has a line of .462/.462/.568 on the young season, and turned in a 1 for 4 effort with his third scored run of the year. Morrison is coming off of a stellar Junior season at Gonzaga, in which he batted .306 with 24 RBI and 45 Runs Scored, along with a nearly pristine .993 fielding percentage.
Road Trip
After taking two out of three games against Kelowna, Bellingham now sits atop the WCL North Division, tied with the Yakima Valley Pippins at 2-1. The team beings a three-game road trip tomorrow, Thursday, June 7th, against the Lefties (1-1) in Port Angeles. The Bells will be back at Joe Martin Stadium for a six-game home stand beginning Tuesday, June 11th, as they face the Cowlitz Black Bears (0-2) and Yakima Valley (2-1).