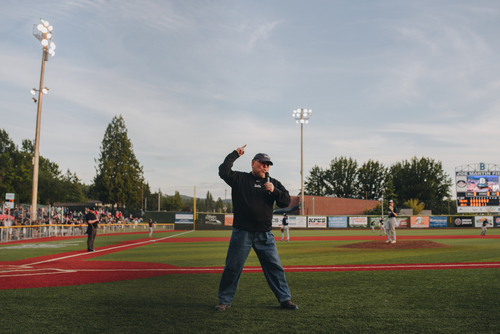 06/05/2019 8:45 PM
The Bells (1-1) secured a 6-2 victory over the Kelowna Falcons (1-1) on Wednesday, June 5th at Joe Martin Stadium for their first win of the season. The game started off as a pitcher's duel as the Bells' Brock Wrolstad (1-0) and the Falcons' Blake Tritch (0-1) only allowed a combined three hits through the first four innings. Bellingham took the lead in the bottom of the first, on a Mason Marenco groundout that scored Guthrie Morrison, and lead for the remainder of the game.
The Bells struck for four runs off of five hits in the bottom of the 5th. Jake Terao led the inning off with a double, and was hit in by Dylan Morgan. Morgan and Morrison both reached base in consecutive at-bats, and both runners scored on a wild infield RBI fielder's choice from Jordan Vujovich. Marenco then scored Vujovich on his second RBI groundout of the game. This inning saw most of the Bells' offensive action, as they finished with six total hits, five RBI, and five base on balls in the contest.
Strong pitching is once again evident for a Bells organization that boasted the lowest team ERA in the WCL last season. Pitching coach Jim Clem's 2018 staff had a 2.48 ERA, while every other team in the WCL had a team ERA over 4.00. After using five different pitchers on Opening Day this season, the team saw strong performances from starter Brock Wrolstad (3 IP, 0 ER, 2 H, 1 K), Will Armbruester (2 IP, 0 ER, 0 H, 2 K), Gabriel Hughes (2 IP, 2 H, 2 ER, 2K), and Tate Dearing (2 IP, 0 ER, 0 H, 2 K). At the start of this young season, the 2019 staff is showing promise with a 2.84 team ERA through the first two games.
The Bells will finish up their opening home series against Kelowna tomorrow, June 6th, with first pitch at 6:35 pm. Probable pitchers are Matt Henckel for the Bells, and Gabe Smith for the Falcons. A quick three-game road trip awaits the Bells this weekend against the Port Angeles Lefties, before coming back home next week for series against the Cowlitz Black Bears and the Yakima Valley Pippins.