12/14/2009 2:31 PM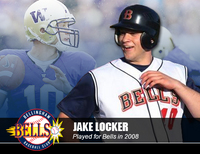 SEATTLE (AP) - Washington quarterback Jake Locker announced Monday he will return to Washington for his senior season, quickly putting to rest any lingering questions about his future.
In a statement released through the university, Locker said he will not make himself available for the 2010 NFL draft and instead will return to the Huskies for one more shot at restoring the program to prominence.
"After a great deal of careful thought and deliberation, I have decided to return to Washington and play my senior year,'' Locker said. "I am very excited about this team's opportunities and potential for the upcoming season and I am looking forward to being a part of it.''
Due to final exams this week and the upcoming holiday break, the school said Locker would not be available for further comment until after the New Year. Coach Steve Sarkisian was expected to hold a teleconference later Monday afternoon.
NFL draft pundits have raved about Locker's raw skills - his running back speed combined with the bulk of a linebacker and an arm capable of making all the throws the NFL requires - some believing he could be one of the first picks in the April draft if he made himself available.
But there remained a sense of unfinished business for Locker, who helped the Huskies to a 5-7 record in 2009 that could have been much better if not for close last-second losses to Notre Dame, Arizona State and UCLA that kept the Huskies from a bowl trip.
Last week, Sarkisian said Locker had submitted his name to the NFL Collegiate Advisory Committee to get a gauge of where he might be drafted. Locker had until Jan. 15 to declare for the draft.
But Sarkisian sensed he would get one more year with Locker, saying last week he was "very optimistic'' Locker would return.
In his first season in Sarkisian's offense, Locker thrived, throwing for 2,800 yards and 21 touchdowns, completing 58 percent of his throws. The 2,800 yards passing is the third-highest total in Washington history and the TD throws were fourth best at a school with a tradition of producing NFL quarterbacks.
He also added nearly 400 yards rushing and seven TDs on the ground, tempering his natural reaction to run when the situation presented itself to become more of a passer.
Locker capped his season with arguably the finest performance of his career in a 42-10 win over California, completing 19 of 23 passes for 248 yards and three touchdowns. He also ran for two TDs.
After that victory, Locker said he had no set timeline on making a decision to stay or go.
Locker is a history major and on track to graduate after the 2010 winter quarter. He is not on scholarship at Washington, the result of signing a contract with the Los Angeles Angels this summer after the Angels took him in the amateur baseball draft. Locker's signing bonus with the Angels was reportedly $300,000.