12/09/2009 11:46 AM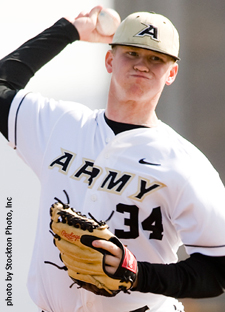 United States Military Academy pitcher Andy Seaman has signed a contract for the 2010 season to play with the Bellingham Bells of the West Coast League. Seaman is the first player added to the 2010 roster and the first signing for first-year Bells manager Kevin Matthews.
Seaman has seen limited action at Army during his first two seasons at West Point, but the Coeur d'Alene, Idaho native is expected to register more innings in 2010. In 2009, Seaman appeared exclusively out of the bullpen and helped his team to a Patriot League Championship and an appearance in the Austin, Texas regional.
"Andy's a great addition to our bullpen," said Matthews. "He's got the ability to be a great middle relief pitcher and we're going to count on him to eat up some innings."
As a freshman, Seaman appeared in 13 contests and held Patriot League opponents to a .143 batting average.
"His time at the Military Academy has proven that he has outstanding character and an excellent work ethic," said Matthews. "We're excited that Andy has decided to play in Bellingham this summer and hope he has a great season at Army this spring."
About the Bellingham Bells
The Bellingham Bells are a professionally operated collegiate summer baseball team in the West Coast League. The team is owned and operated by Brett Sports & Entertainment which includes Major League Baseball Hall of Famer George Brett and Brett Sports managing partner Bobby Brett. The Bellingham Bells strive to provide their fans, sponsors, and partners with the very best in competitive baseball and affordable entertainment in a family-friendly atmosphere. The team is comprised of college baseball players from across the country. In recent years, the Bells have produced a number of Major League products including Jeff Francis of the 2007 National League Champion Colorado Rockies and Whatcom County natives Ty Taubenheim and Kevin Richardson.