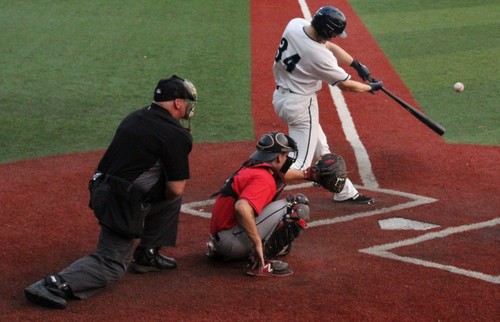 08/12/2018 8:34 PM
It was a hard-fought game, but Bellingham's comeback attempt came up just short in a 7-6 loss in game three of the West Coast Divisional Series, bringing an end to the Bells' 2018 postseason.
Kelowna jumped onto the board early. After Nick Hull started the game off with a strikeout, the Falcons were able to force a one-out walk and then Taylor Wright and Dan Pruitt continued their trend of giving Bellingham problems.
Wright doubled high off the right field wall, giving the Falcon's a pair of runners in scoring position. Pruitt then followed suit with a three-run homerun over the left field fence to give Kelowna an early 3-0 lead.
The Falcons bats did not quiet in the next frame. Following a one-out walk, Kelowna singled up the middle, and Bob Miller made a move to Chris Micheles in the bullpen. Back-to-back singles and a sacrifice fly to center field finally gave Bellingham its second out, but the Falcons advanced their lead 5-0.
Kelowna then loaded the bases on a walk to Pruitt and added two more runs on a single to center field to blow the game open to 7-0.
The Bells climbed right back into the ballgame by batting around in the bottom of the second. The inning began with three consecutive singles to get on the scoreboard. Dusty Stroup was awarded an RBI after scoring Matt James, cutting the lead to 7-1.
Guthrie Morrison loaded the bases with a drag-bunt, and Ernie Yake clubbed in a pair with a single to right field. An RBI double from Cody Pasic and a sacrifice fly from Matt McLain brought Bellingham within two runs cutting the lead to 7-5.
After three of the first four frames filled Joe Martin Field's new scoreboard with crooked numbers, the next seven consisted of zeros. That was until Matt McLain got an RBI the hard way.
With runners on the corners, McLain hit a grounder to the shortstop for what seemed like a routine double play. The hustling second-baseman hustled right out of the box and beat out the throw for an RBI fielder's choice, cutting the lead down to 7-6.
Trevor DeLaite kept the Bells in the contest the entire way, throwing seven innings of shutout baseball, allowing just four hits, issuing one walk, and striking out seven in the process.
The Bells were able to threaten Kelowna by advancing the tying run into scoring position in both the seventh and eighth inning but couldn't come up with the final big hit to force extra innings.
Kelowna will host the Corvallis Knights in the first game of the WCL Championship on Tuesday night.